Reading Time:
10
minutes
While a dog's enthusiasm can be wonderful, they're sadly not very aware of the effects of their inquisitive nature. A strong dog who constantly wants to explore can pull at the lead for hours – this can make dog walks, which have the potential to be one of the best aspects of owning a dog, into an absolute nightmare, both for you and the dog!
There are however ways to help control your pooch, and a key part of this puzzle is harness choice. This article looks at the top 5 harnesses for dogs who pull.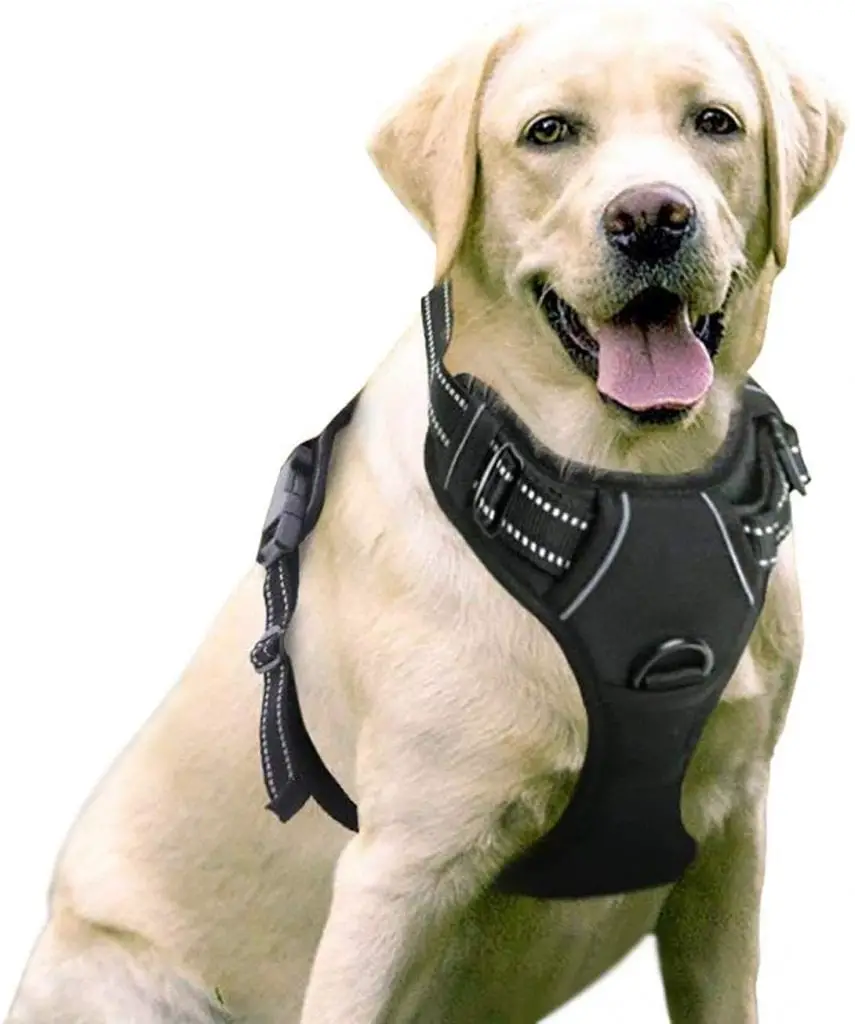 At the top of this list is an incredibly popular option – the Rabbitgoo no-pull dog harness. With over 91,000 extremely positive reviews on Amazon, they must be doing something right! It comes in four different sizes, from small through to X-large, and is designed to fit most dogs from the medium to large category – from smaller Golden Retrievers up to bigger German Shepherds. There is of course a lot of variety of size within breeds, so it's best to measure up your pup first before purchasing.
The harness has two metal leash attachment points on it. A front one, on the chest, and a back one above the shoulders. The front attachment point is ideal for dogs who tend to pull or are still in the training stage – a harness point at the front means that when dogs pull, the harness pulls them off balance a little, pulling them round to the side rather than allowing them to tug harder. It's a great control method which isn't bad or painful for the dog and allows for easy training! The rear harness point is appropriate for more fully trained dogs, for use on casual walks and runs. At the back, there's a top handle for more control in certain situations – when you're crossing the road or if the dog has become over excited at the neighbourhood squirrel.
It's fully adjustable, with four buckles – two for adjusting the neck, two for the chest – so you can get the perfect fit, and accommodate some growth if your dog isn't at their full size just yet. It's also very fast and simple to take on and off, with two easy to release buckles, all you need to do is slide it over the head and click the shoulder straps in. This is definitely a good feature for those with excitable dogs – fitting a harness on a dog who is eager to go for a walk is no mean feat! Coaxing legs into smaller straps is almost not worth the fuss, this method certainly removes that issue.
Some harnesses can be quite uncomfortable for dogs to wear, causing chaffing and the like – especially as they may not be used to the areas of contact. This harness however achieves the task of being both durable and comfortable; made from durable nylon, it's padded cushions are made from a breathable mesh so your dog doesn't overheat while running around. It also has nice reflective strips to aid with finding dogs prone to hide and seek, which can be fun for a few seconds then highly stressful!
All of this for $12.72 is certainly a good deal. Even if it doesn't quite suit your dog (which is unlikely given the adjustability) you won't be losing much, and can give it to another lucky dog you meet at the park!
Pros
Great value!
Highly adjustable and easy to fit.
Durable and comfortable.
Cons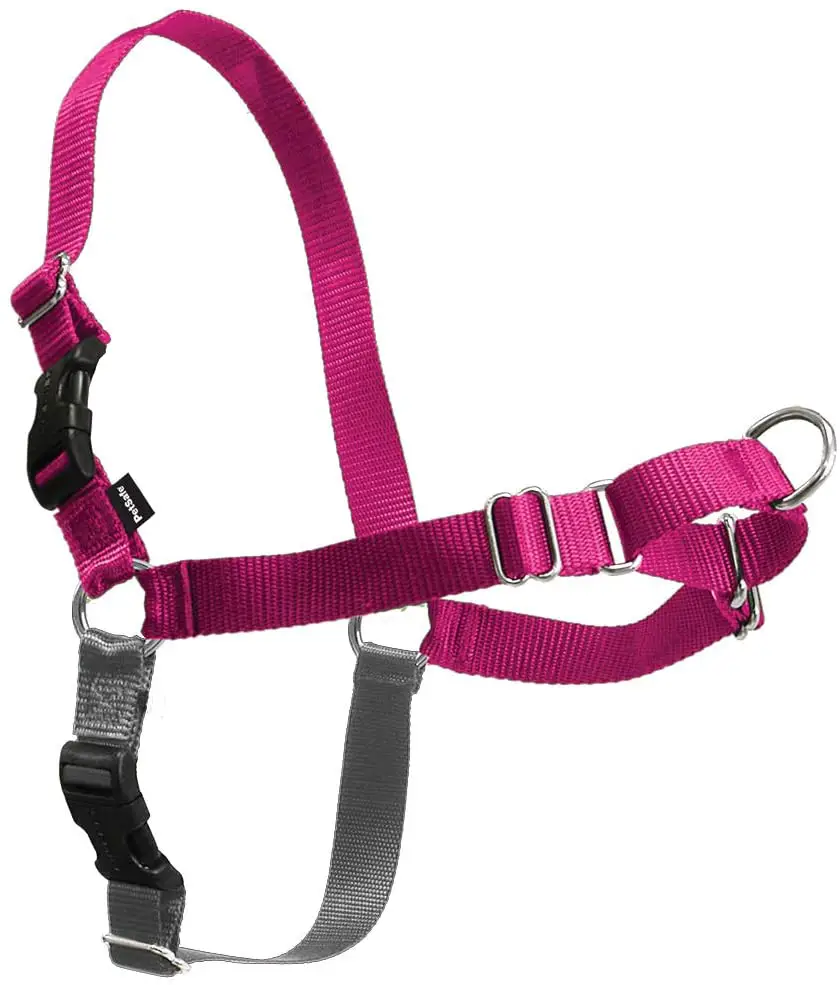 Sometimes less is more, and that could definitely be said here! The Easy Walk dog harness is simple, meaning there's little to go wrong and it's easy to fit. Made by a company with almost 30 years expertise in the U.S. dog market, it's clear you're buying a product based on innate knowledge of its requirements. Their customer support is excellent, and if you do end up buying the wrong size, they'll happily help you swap it for the correct one.
The harness comes in eight different sizes, so you should definitely be able to find the right fit for your dog. Because of its simplicity (it's made from reasonably thin nylon straps) it's quite light, and where more complex and padded harnesses can be heavy and hot, this one is certainly the opposite – lightweight and breathable! Heavy duty harnesses can be overwhelming on smaller dogs, often making harnesses unsuitable for use with them, but this one can be used with dogs right down to Chihuahuas, should you think their pulling strength merits the use of a harness!
Unlike the first option reviewed here, this option only has a front harness attachment point. This makes it suitable for dogs who pull and need training, but the lack of a rear leash attachment point makes it a less appropriate option for dogs who are fully trained and don't tug so hard. As it's so small and light, should you wish to take two harnesses out – one collar and one anti pull harness, it is a possibility. If you're looking for a two in one option however, this isn't it.
For dogs who really need training though, this is very well thought out. It was designed by a veterinary behaviourist, and while it cleverly steers the dog where you want them to go, in doing so stopping most of their pulling force, it doesn't rest on the dog's neck – which is uncomfortable and potentially deadly! With a handy fitting chart, you just need to measure the chest and girth of your dog to find an easy and effective size option. Should you be slightly off, there are multiple buckles to make it fit just right.
The ease of fit is another impressive feature of this harness – it still only has two quick release buckles, but there are no loops you need to thread the dog's head or paws through, making it potentially the easiest option on this list to put on. At $20.77, it's still inexpensive – not quite as cheap as the first option, but then that certainly is a hard price to beat.
Pros
Lightweight and non-restrictive construction.
Easy to put on and take off.
Simple yet intelligent design based on industry expertise.
Cons
No rear leash attachment loop.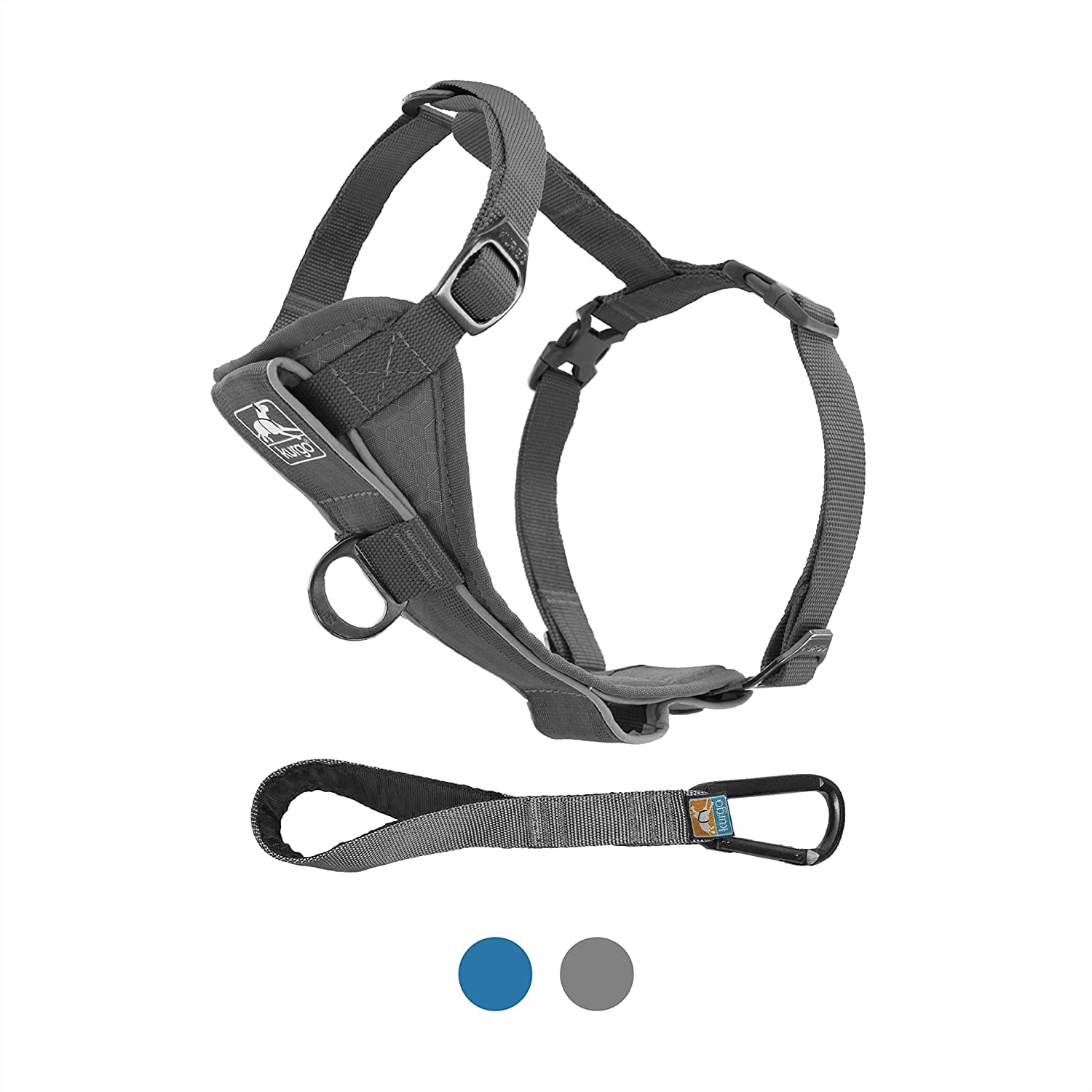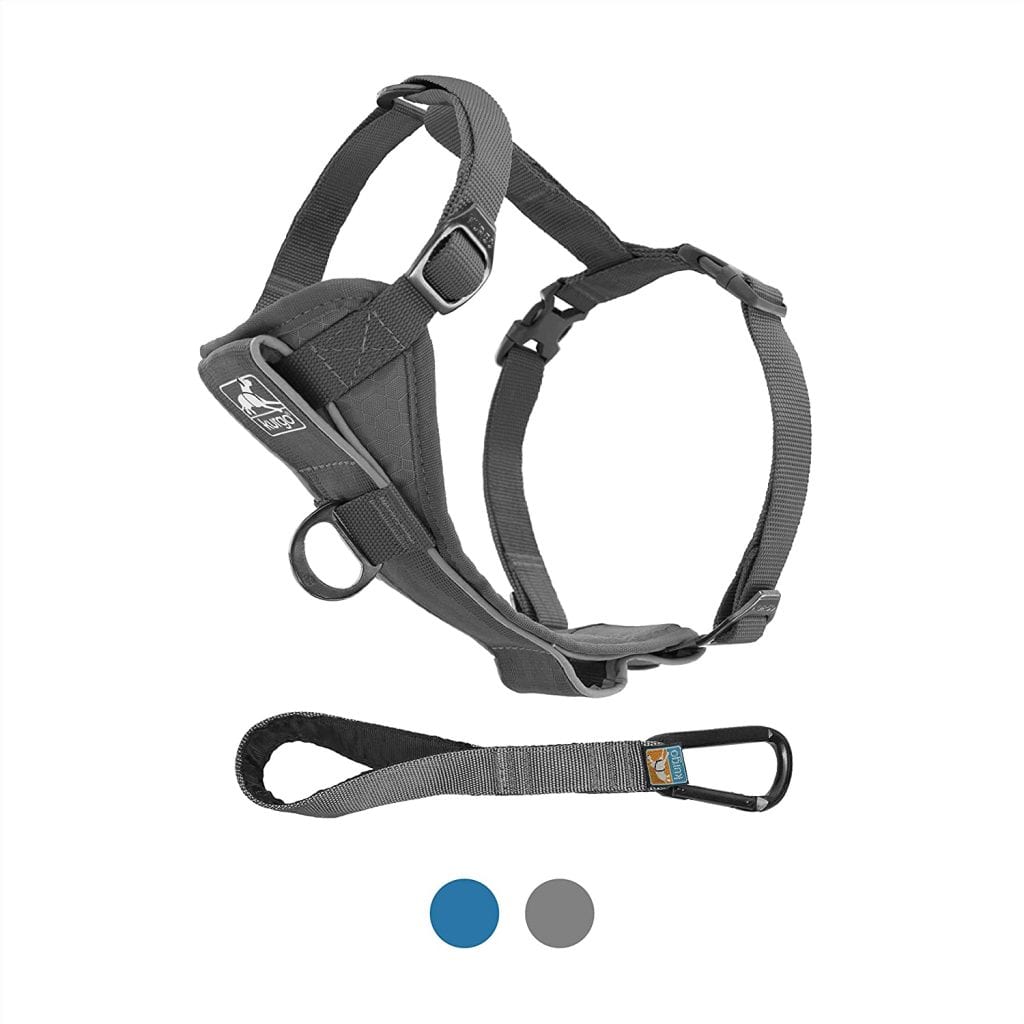 This option by Kurgo is another seriously impressive piece of kit. Feature rich and highly adjustable, this is another option suitable for small to big dogs, and for those who could pull a small freight train right the way to the most calm and collective senior dogs. With five sizes from X-small up to X-large, there's almost certainly a suitable size for your pooch. 
This is a very versatile option, with both a front loop for dogs prone to pulling and a rear loop for normal runs and walks. The extra padded chest area makes it a great option for dogs who really pull very hard and could potentially hurt themselves – dogs really don't understand their own strength, especially when they get taken over by the heat of the moment (which happens a lot with some dogs!)
While your dog is sure to put its durability to the test with vigorous forest and field adventures, Kurgo are confident in the longevity of their product – so much so that they offer an easy and simple lifetime guarantee. Simply call their customer service department with any enquiries and they'll try their best to sort out your concerns. 
It has two quick release tabs, making for easy fitting, and the five adjustable points make for truly personalisable adjustability. If you've found that other harnesses have been just slightly off with their fit, it's likely that this will be a good option – doggie dimensions are so variable that it's impressive when a company makes an option that's so versatile! They provide a very intuitive sizing chart, but again – if you have any doubts, contact their customer service department and they'll do their best to help you with choosing the perfect size.
A nice feature that this option includes is a seat belt attachment for cars! While it won't necessarily help in the case of a crash, that's not so much the point – some dogs can be quite restless while driving, and it's dangerous to have them running around while you're travelling at high speeds. They provide a ten inch tether which can be used to keep them still and simplify your life to no end. It's a nice and thoughtful addition by Kurgo, and has a logic to it – it's likely that if your dog is prone to pulling, it may also be prone to getting distracted while on drives. 
Finally, and this may be a concern for some, I think this is a good looking option. Some harnesses can be a little rugged in their aesthetic, but the Kurgo Tru-Fit in my opinion is smart and sleek. With options of either black, blue or grey, you'll probably find one which suits both you and your dog's sense of fashion.
Pros
Highly adjustable.
Stylish.
Versatile and feature rich (car harness!)
Lifetime guarantee.
Cons
Not as cheap as the other options but still by no means expensive.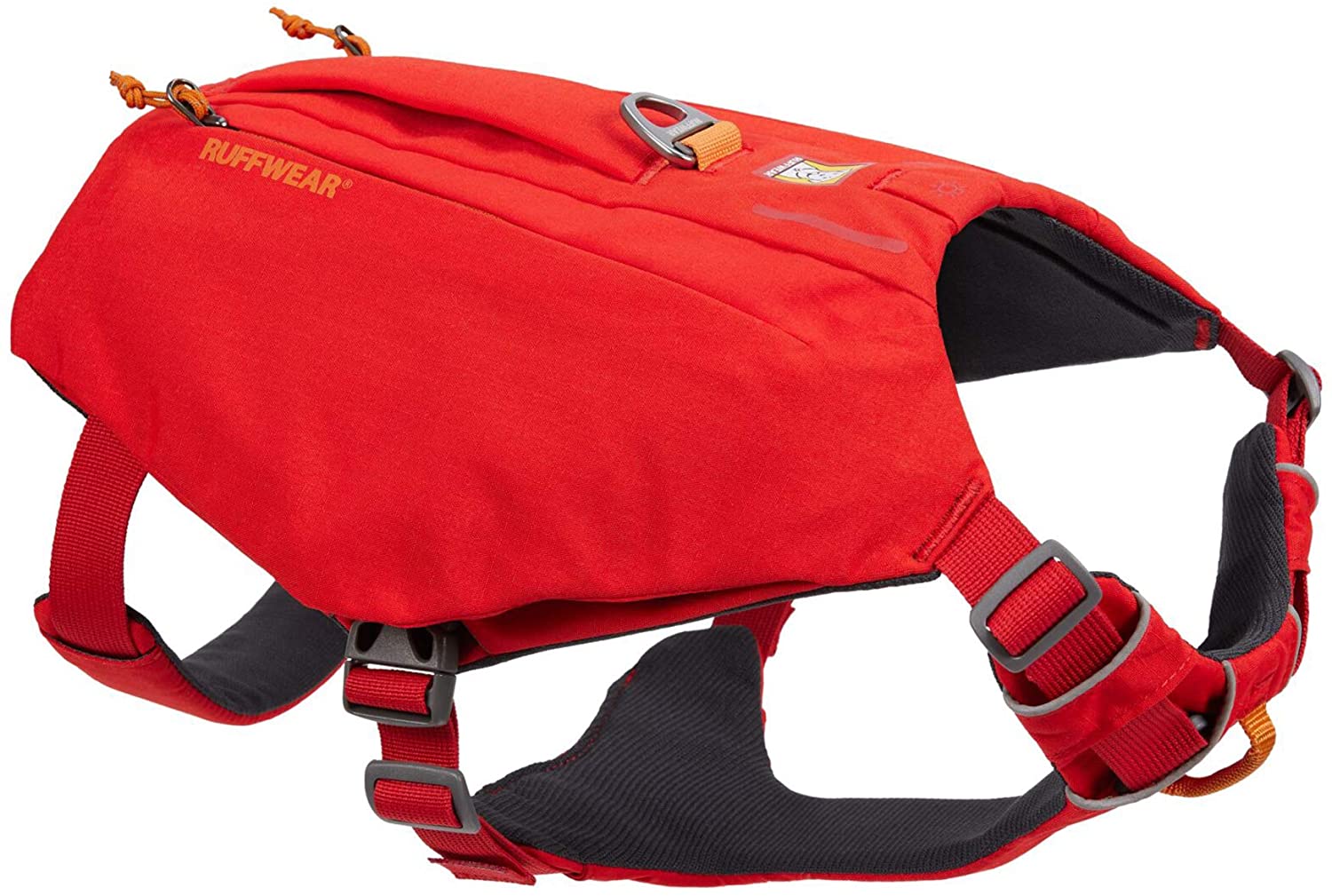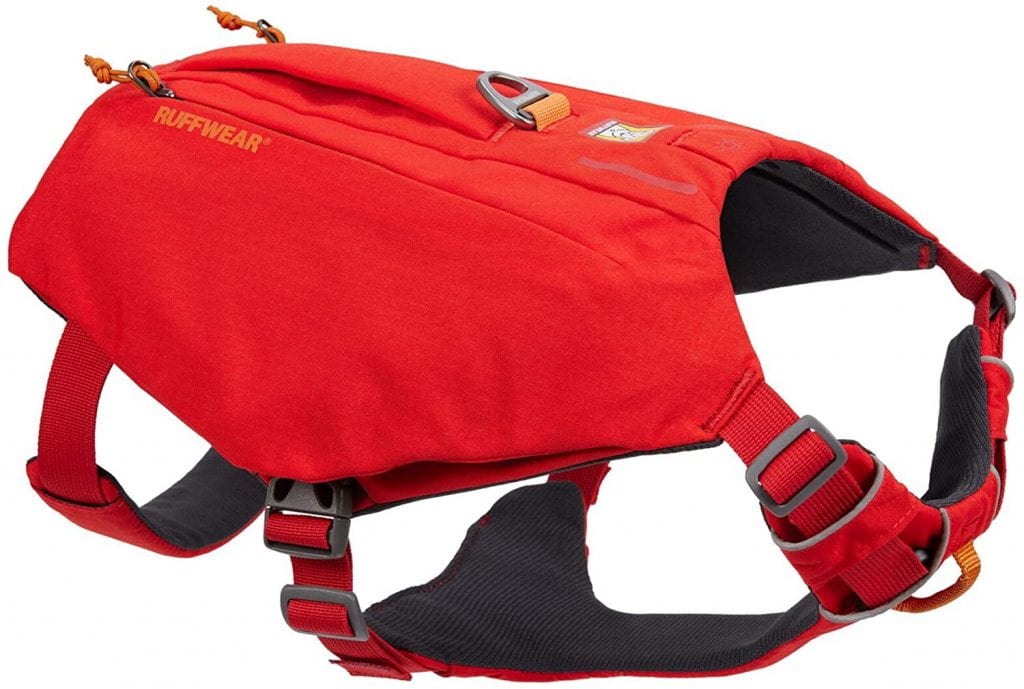 This one is a great choice for the adventurer. If you want your dog to be part of your travels, from down in the valley right the way up to mountain top, this versatile and very well made harness might just be the perfect option. It's certainly more expensive, but what you get for your money is impressive, and I doubt you'll feel like you've gotten a bad deal!
The harness features lead attachment points at both the front and the back, so you can train your dog if it's prone to pulling, or just use the rear attachment point once it's calmed down a little. It's highly adjustable with 5 different adjustment points, and is excellently padded in order to ensure extended comfort while embarking on long, multi day adventures. The chest and belly area is especially padded, meaning it's nice and comfortable for lifting your dog; harnesses with plain straps can dig in, but I highly doubt that will happen in this case.
It has a comfortable hand loop which retracts to lay sleek against the harness, meaning it won't snag on any rocks of undergrowth, but can be pulled out when you need to maneuver or carry your dog through tricky terrain. Likewise, the pockets are sleek with the zippers hidden beneath the fabric flaps. The pockets aren't big, but then you shouldn't be putting significant weight on your dog's back, so that shouldn't be an issue.
I really do think this is a great looking harness. The design looks and feels good quality, and the colour options (blue moon, granite gray and red sumac) are all excellent – I'd be happy with any of them. The red is especially appropriate for spotting adventurous dogs who have run off, and all options have reflective highlights to aid with low light conditions. While it is significantly more expensive than all of the other options on this list, based on all the above, if you're looking for an adventure harness and backpack, I reckon this option will be perfectly suited to your needs.
Pros
Cool features like little pockets and a comfortable sleek handle.
Looks great and really well made.
Low profile and strong
Cons
Certainly more expensive than the other choices on this list.
Perhaps not the best option for hot weather or short walks to the shops.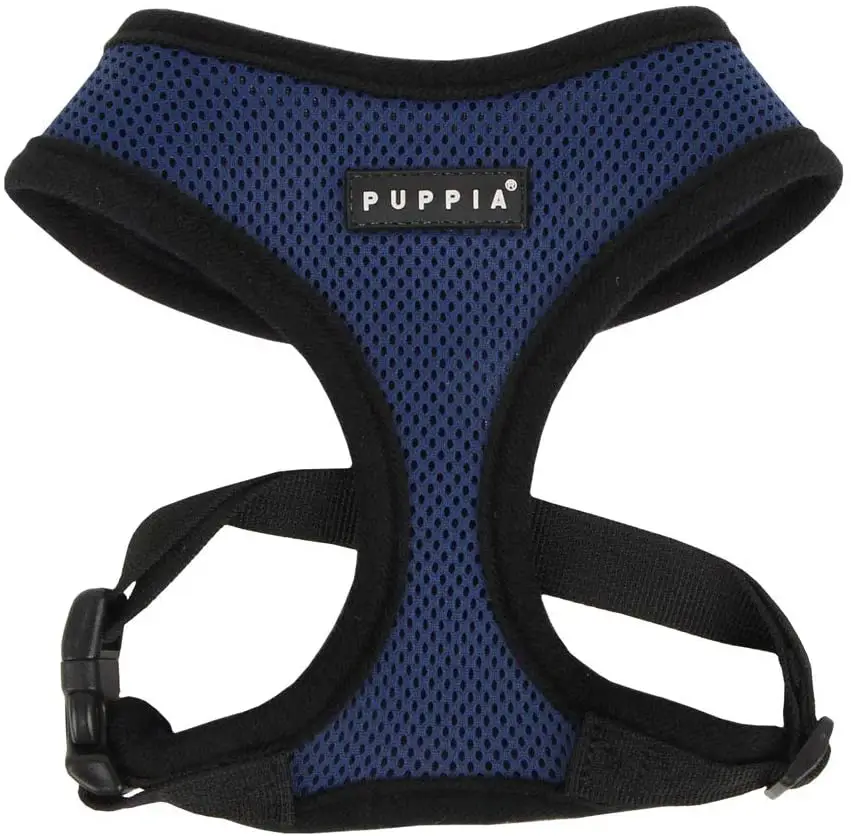 This last option is one for those with smaller dogs to get excited about – not that it doesn't also fit bigger dogs as well! If your dog finds normal harnesses too big, or too uncomfortable (either due to sensitive skin or past injuries,) the Soft Harness by Puppia should help massively in remedying those problems. It isn't suitable for big dogs who pull, and isn't super adjustable, but for the price, you really do get a lot. 
The harness comes in six different sizes, from X-small all the way up to XX-large, meaning it'll fit dogs all the way from tiny puppies up to dogs with a chest size of 30 inches. They have a handy size chart which makes choosing the right option a doddle. It is adjustable, but only has one adjustable strap; this makes it less personalisable than some of the other options on this list, but if it fits well, your dog is in for a treat. The design means that it doesn't ride up into the neck area, so if your dog has had past spinal injuries, this harness comes highly recommended. 
The main selling point of this harness is how padded it is. For dogs who are prone to chafing or have sensitive skin, it might just be perfect – on the pulling points, there are no thin straps to dig in and cause irritation. What it is lacking however is a front point for attaching leads; it's good for small dogs who pull as it won't hurt them, but it doesn't offer the walker much control while walking bigger dogs. If you have a big, powerful dog who is prone to pulling, you might want to consider a different option from this list, such as the Rabbitgoo. 
Sizing wise, the previous model of this harness had a notably different fit – if you had that iteration of the design and found it fitted well, you'll want to go one size up with this version. Amazon are great with handling returns in general, so if you find you want to change size, that shouldn't be a problem.
What the Puppia also offers is true value for money. At $11.99, it's the cheapest option on this list, and as it's also probably the most comfortable for the dog, I think that's pretty impressive. It feels well made and built to last, especially when used by smaller dogs, who it will suit best anyway. It comes in a whopping 14 different colour options, which is far more than any of the other options on this list, and means you'll definitely find something both you and your canine friend are happy with. On the price front, if you're worried your puppy will grow out of the harness, it's so cheap that it doesn't matter in the slightest – either resell the old harness or give it to a new dog owner looking for a comfortable harness.
Pros
Price wise, it's the most affordable on this list!
Very comfortable for small and sensitive dogs.
Well made.
Cons
Hasn't got a front attachment point for bigger more powerful dogs.
Not as adjustable as other options.