What is an invisible fence?
An invisible fence is the name given to a wired system set up around the perimeter of your property which discourages your pet from crossing boundaries through the use of a tone or electric stimulation.
The dog wears a collar which is triggered at a certain point by the electric wires (or invisible fence). The control system is usually kept in the house and allows the pet owner to set the distance that their pet can roam within.
It's important to note that an invisible fence, if installed and used correctly, will not normally do any lasting damage to your pet and may in fact benefit them by ensuring they do not break out into a potentially unsafe area.
You can easily test this out on yourself by installing the fence and then placing the collar on your arm. Approach the wire and you will be able to feel the sensation that your dog experiences when they approach it. It's more irritating than damaging, but the dog will quickly learn (if taught correctly) that they must not approach or cross this line. With most fences, the level can be increased or decreased as needed.
There are two main uses for invisible fences: the first is for containment purposes and the second is for training. In terms of containment, dog owners are legally obliged to keep their animals under control and ensure they are not a danger to themselves or other animals or humans.
An invisible fence can ensure that your dog is kept safe, no matter how big or small your property.
Second, the fence can be a great training tool, giving you the opportunity to teach your dog to respect your authority and rules. No matter what type of training you want to complete with your pet (for example, puppy training or preventing them from jumping fences), using an invisible fence can be a great tool to adapt.
Is it an effective method of dog training?
Yes, using an invisible fence can be an effective method of dog training. It's important to remember that every dog will react differently to the stimulation so it's really important to take it slowly with your pet and go at their pace.
The ultimate aim for you is to teach the dog to respond to a stimulus in order to complete a specific action. Depending on your dog and your training purposes, there might be a more effective training method that you could look into to train your pet.
Remember that an invisible fence or electric wire system does not always have to use electric stimulation or 'shock' as a training tool –  it's also possible to use the system with a tonal sound that your dog can learn to recognise to obey.
Of course, spending time with your dog and teaching them in a calm, positive, and rewarding way is one of the most effective ways for your pet to learn good habits, according to animal experts.
If you decide to use an electric fence as part of your training routine, you can look forward to the benefits relatively quickly, depending on your dog.
The most important consideration is to respect the pace of your pet and their needs while training.
1. PetSafe Stay and Play Wireless Fence for Stubborn Dogs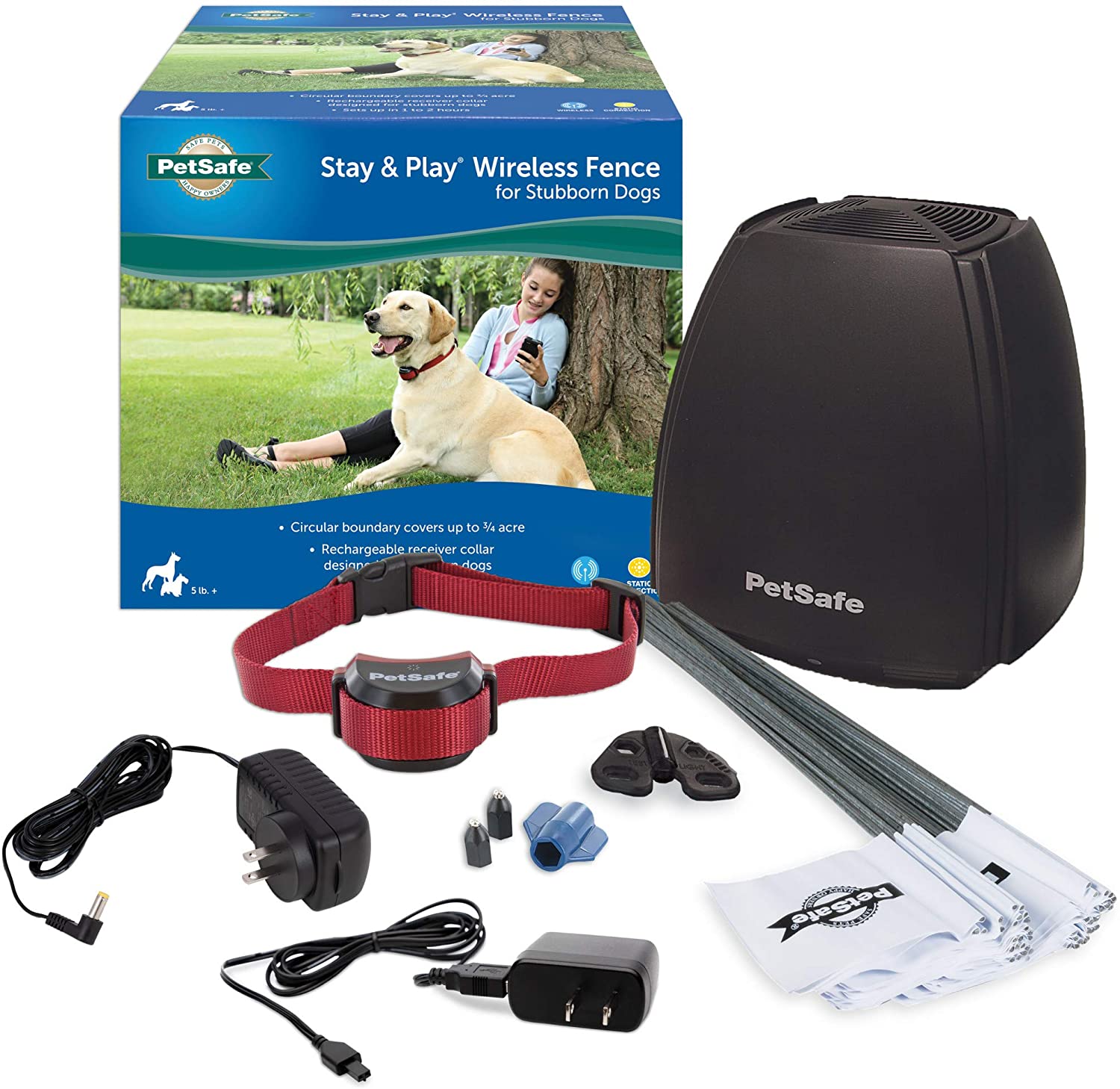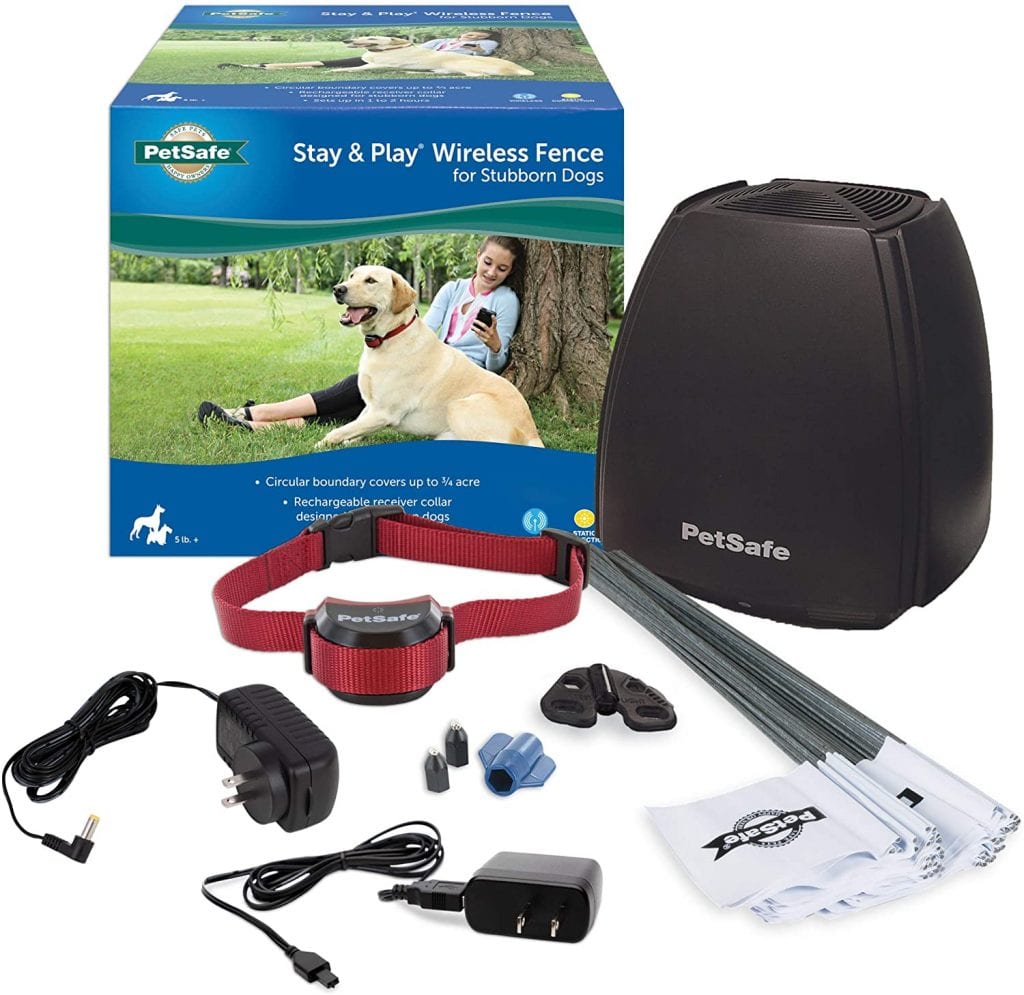 Finding a pet-friendly and safe wireless fence can be very tricky. As a highly popular and reliable model, this PetSafe fence is sure to tick lots of boxes for pet owners.
The wireless fence kit comes complete with everything you need, whether this is your first kit or you're experienced using fences.
Many fences are underground only, meaning they have to be buried in order for the technology to work. This of course is an impossibility for many pet owners who are unable to bury wires.
This model, however, is fully above ground, and can be safely implemented around the perimeter of your home to ensure your pet's safety.
Covering a circular quarter acre, it has an adjustable range, depending on where you need to erect the perimeter.
This is an ideal wireless fence for owners who want to train their dog to develop good habits before going directly to a harsher approach to keeping them within your property area. There is one tone level and five varying levels of static to encourage your pet to obey.
Even the most stubborn of dogs will become compliant with this collar if used carefully and appropriately. The kit comes with comprehensive instructions to explain the best approach to teaching your dog how you want them to behave.
It's really important to spend time on this at the beginning to ensure that you both get the best use out of the model. Because you are teaching your pet rules about where they can and cannot go, it will take them some time to learn exactly what your instructions are.
An added benefit is that you can take this wireless boundary fence with you if you decide to go travelling or camping, and it's easy to do so. The receiver collar is fully rechargeable so that you can always keep your pet safe and happy.
Pros:
·        Can be set up in 1-2 hours, with firm and positive training from you to ensure your dog understands what you want from them
·        Collar is fully waterproof so no need to take it off if it rains
·        There is a correction-free return-home feature which means that if your dog comes back into their boundary area, they won't hear a tone or feel static (no correction). They will only feel or hear it if they try to leave
Cons:
·        Takes some time to set up and to properly train your dog to obey – depending on the obedience level of your pet
2. SportDog Contain & Train In-Ground Fence System 2-Dog System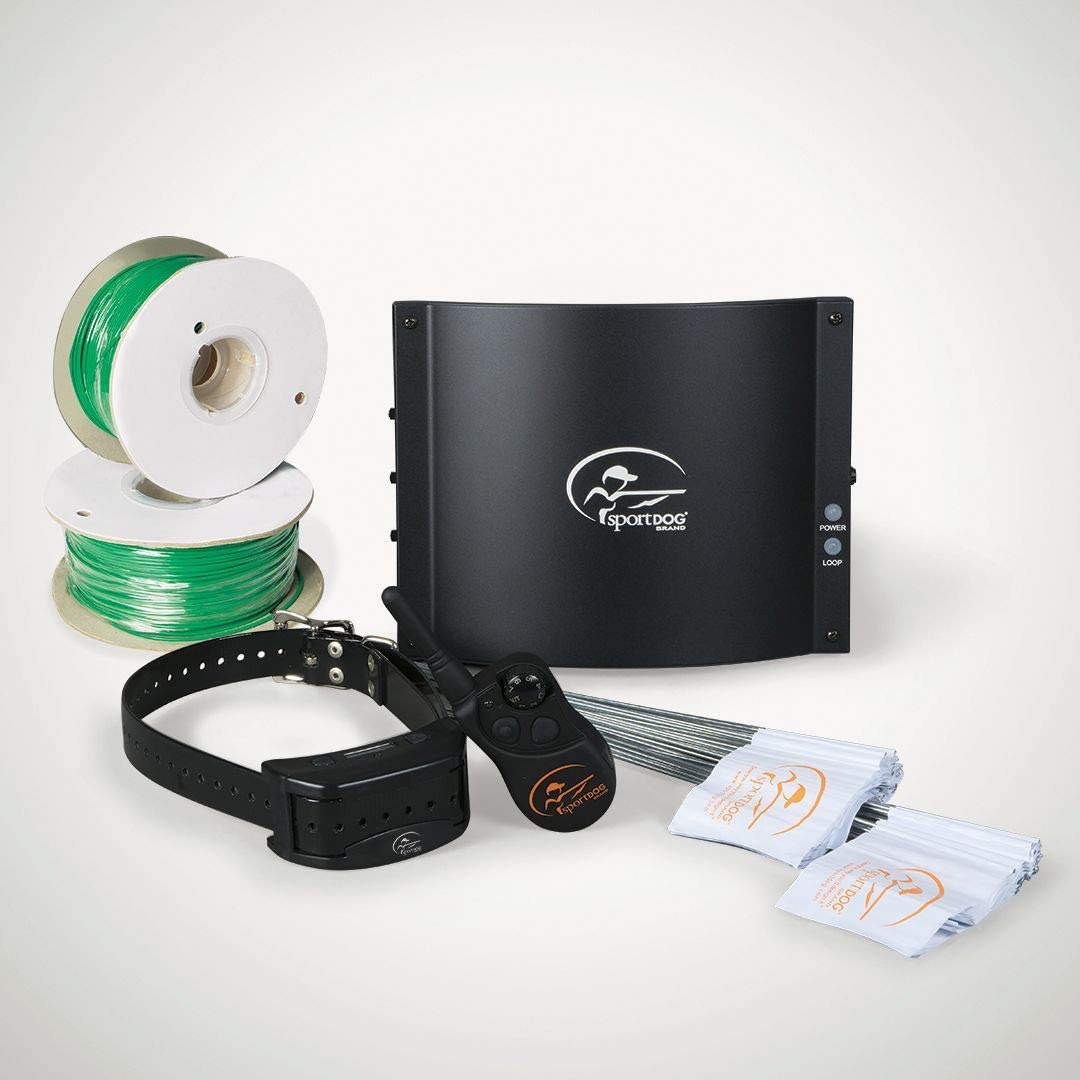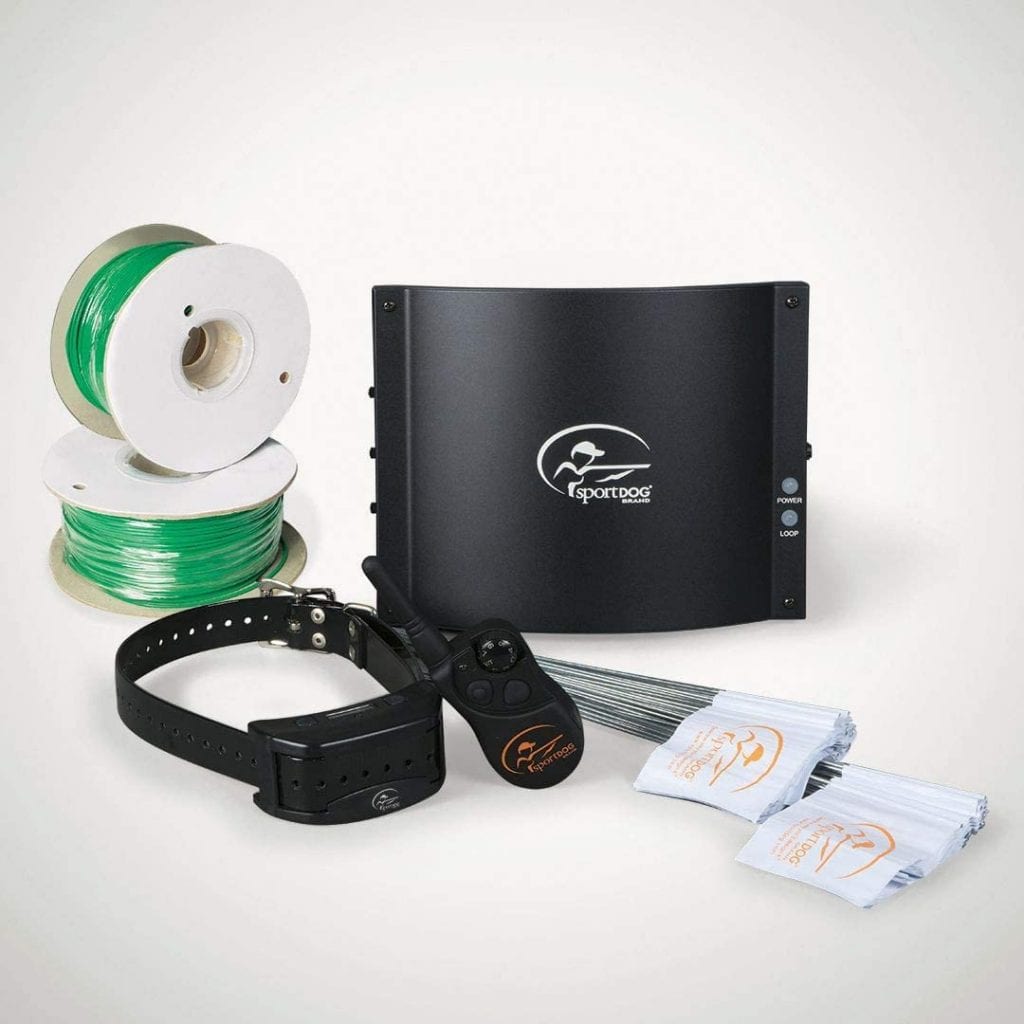 For pet owners who have the ability to bury a wireless fence in the ground around their property, this is a high-tech model with lots of excellent features.
One of the biggest problems with in-ground systems is not knowing when there has been a break in the wire or some other form of obstruction preventing it from operating effectively.
This fence system comes with a wire-break transmitter alarm to warn you if an issue has been detected, giving you ample time to fix the issue so that your pet is always protected.
It also comes with an additional collar for a second dog, making it an economical choice. The battery in the collar is a rechargeable and hard-wearing lithium-ion battery, which is the standard choice for this type of product.
The collar also has an OLED display for easy programming and so that you can quickly get the information you need without having to take it off your pet to check.
Weighing your dog is really important before you invest in a dog collar fence system. This SportDog version will be perfect for dogs weighing at least 10 pounds or larger.
In terms of the correction abilities, this collar has 7 levels of static stimulation to encourage even the most stubborn dogs to remain in the boundary that you have laid out for them. It also has a dual containment and training mode.
This allows you 3 options: first, you can use the containment mode only. This will ensure the collar responds only to the fence boundary. Second, the training only feature, where the collar responds to the remote only (allowing you to train your pet anywhere).
Third, the containment and training mode will allow you to programme the collar to respond to both the fence boundary and the remote, so that you can easily train your dog while in their designated boundary area.
Pros:
·        Containment area measures up to 100 acres and is fully adjustable to your needs
·        Comes with an anti-linger feature for pets who like to move too close to the boundary line. This ensures that they won't be tempted to go over the line
·        The remote transmitter allows you plenty of options, including issuing tone, continuous and static stimulation, momentary static stimulation, increase or decrease the intensity, and a charging jack
Cons:
·        Comes with 1,000 ft of wire which may not be suitable for larger areas (but additional wire can be purchased)
3. Extreme Dog Fence – Second Generation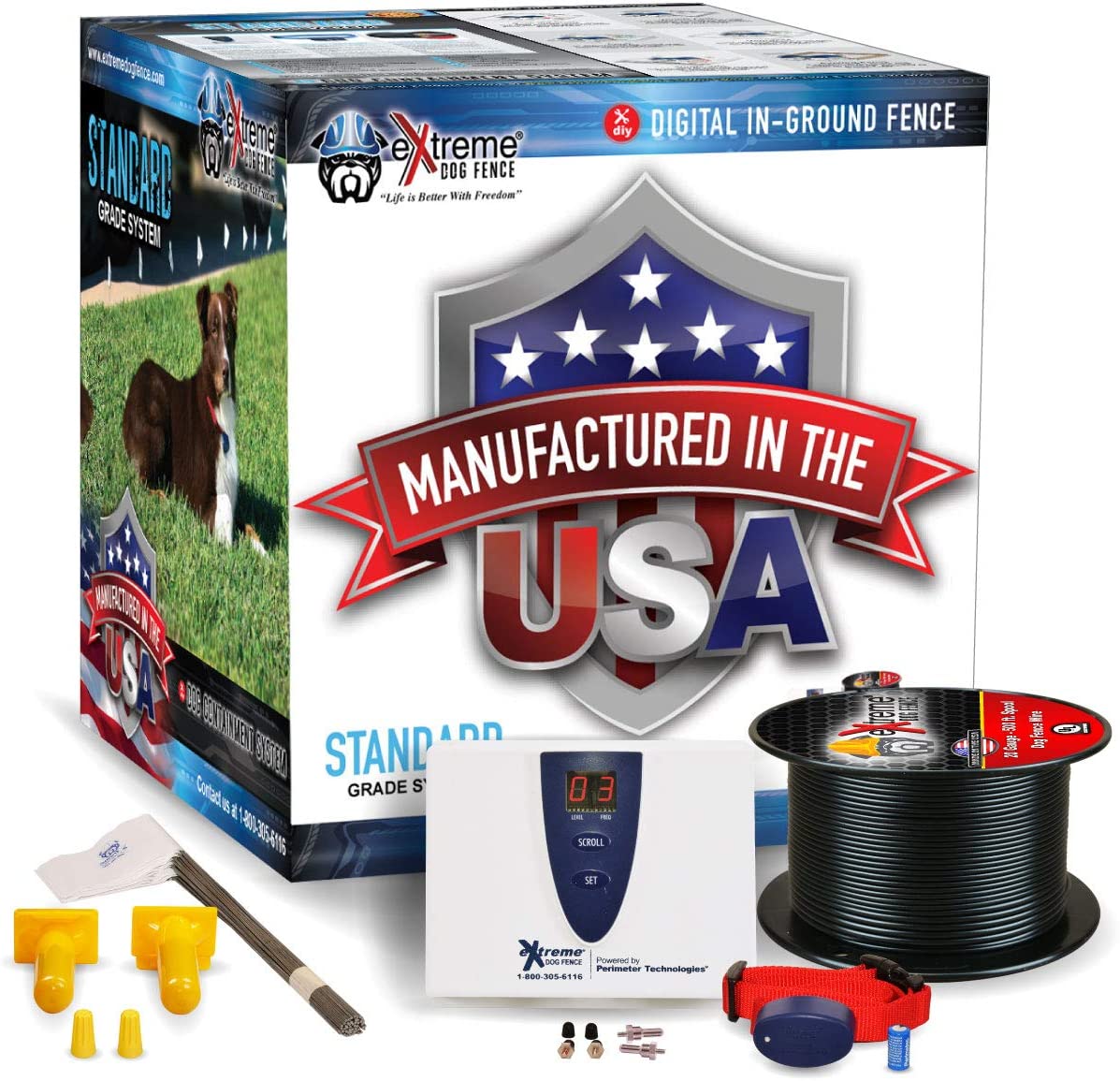 All pet owners know that getting your dog to behave can be extremely difficult and frustrating for both of you. It's important to show your pet affection and positive regard, even when you are training them and they may not understand. After all, you know that you are doing this for their own safety and so that they won't be hurt.
This Extreme Dog Fence (Second Generation) makes the process really simple for you and your pet. Coming in a range of distances and working effectively with up to 5 dogs, it has everything you need to be able to train your pet to stay within a predefined boundary area.
This version covers up to 6 acres and is an underground system for better protection. It's fully water resistant to ensure no water damage while buried. The collar is also fully waterproof, and submersible up to 10 inches deep, meaning that it's perfect for use in the rain, and even while your dog is swimming.
The strong reputation of this manufacturer is clear by the length of the warranty on this model. You get a 1-year warranty as standard, and if you register, you can obtain an additional 5 years. The customer care team are on hand to provide you with all the support and assistance you need to set it up and maintain it.
As with some of the other fence system models we've seen, this has 1 tone level, and 7 static levels, giving you the opportunity to tailor the system to your dog's obedience level and individual needs.
Another great little feature of this kit is that it comes with 50 training flags to help your dog visibly understand the areas where they can and cannot go.
Pros:
·        Comes with a clear digital transmitter which is usually stored indoors and allows you to programme the appropriate correction level based on the boundary areas
·        The waterproof collar comes with long and short contact probes which can be used effectively on dogs with different body and hair types
·        The collar weighs only 1.1 ounces and the battery lasts a minimum of 4 months
·        Comes with a 20-gauge AWG solid copper boundary wire for installation around your property. It can last up to 5 years if installed correctly and can be buried up to 3 inches deep
Cons:
·        The transmitter is made of white plastic which doesn't look extremely high tech
4. SportDOG Brand In-Ground Fence Systems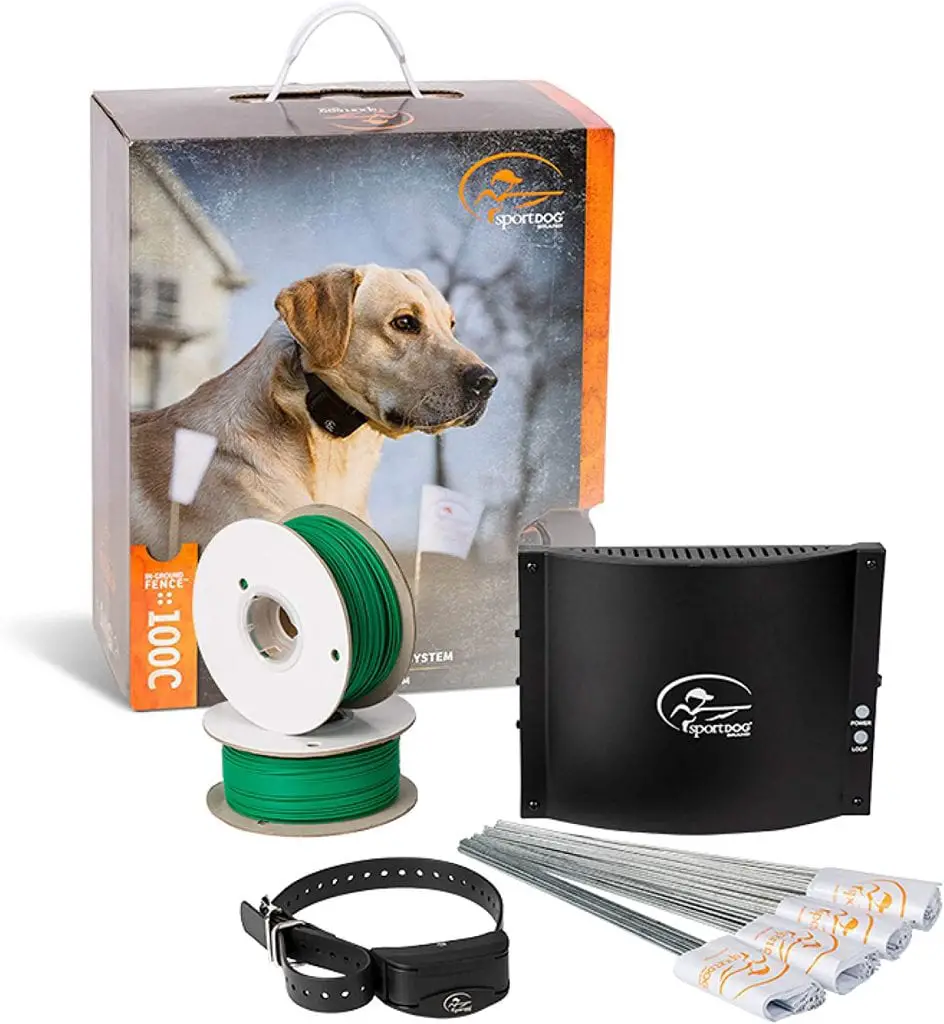 We love how easy this system is to set up and install on your property, and it has quite a few other fantastic features that we think are worth mentioning.
First, it's been designed to cover an acre and a third of land per dog, and this can be expanded if necessary, up to 100 acres.
The sleek rechargeable collar contains a standard lithium-ion battery and can be fully charged in just 2 hours. In most cases, the battery will last up to a month without needing to be charged again. Unlike many collars, it's waterproof and submersible to a depth of 25 feet.
It's ideal for dogs weighing 8 pounds or heavier, and has 7 unique levels of tone/ vibration stimulation correction feature to keep your dog safely within your designated perimeter.
When training your dog using a fence system collar, it's natural that they will be at first confused about what you're trying to teach them to do. This kit comes with 100 flags that you can lay down so that your dog gets a clearer picture of where they are allowed to go.
With a 2-year manufacturer warranty, you can buy this system with the assurance that you are investing in a quality product that will keep you and your pet safe.
The advantage of an in-ground system is that it can cover a wider area. Some users may wonder whether the wire will become damaged in the ground, but this model has been built to last.
No matter the weather conditions, heat, cold, snow, mud, wind, etc – this has been tested and ensured that it is long lasting and durable.
Another great feature is the anti-linger technology which detects if your dog is straying too close to the boundary line. It keeps them in check and safe so that you don't need to worry about them leaving your property area and becoming injured.
Pros:
·        The training process with your dog can be completed in about 2 hours. After this point, if you have followed the instructions, your dog should understand they must not cross the boundary line
·        Very lengthy wire to give you access to as much space as you need on your property
·        Works even with the most stubborn of dogs who try to escape from the area they've been instructed to stay in
Cons:
·        The installation process when laying the wires can take some time and needs to be done very carefully to ensure that the wires are working properly – be sure to carefully read all instructions
5. SportDOG Brand In-Ground Fence Systems (RECHARGEABLE)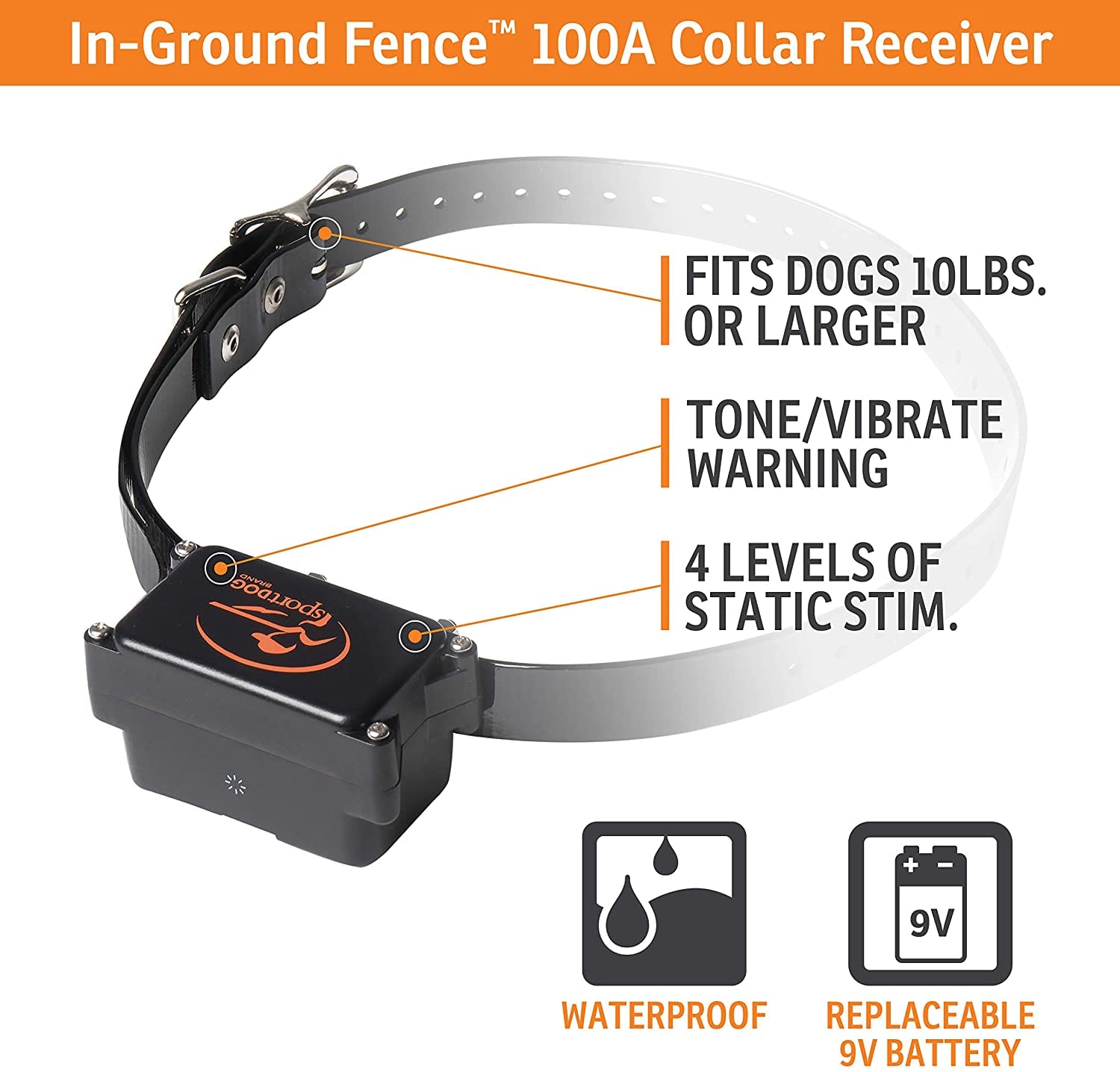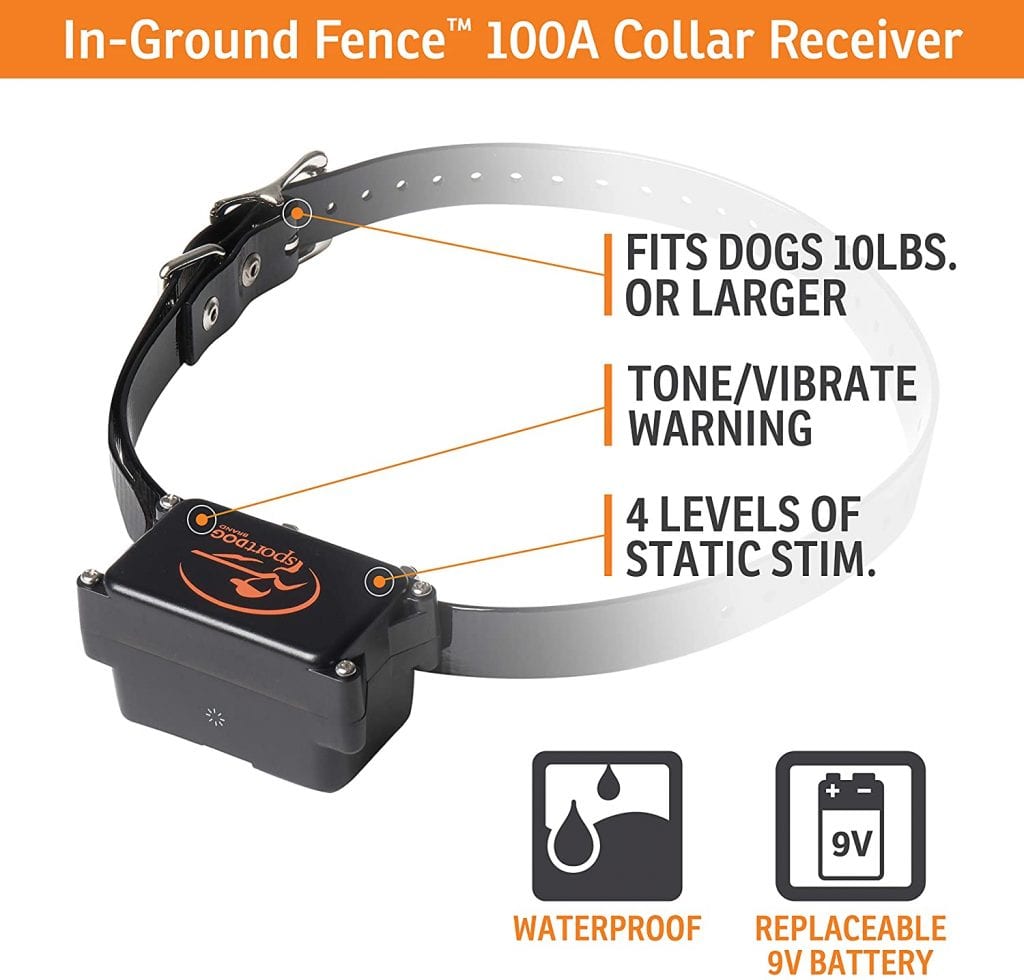 The first thing to note is that this fence system is an older version of the SportDog Brand, but that doesn't mean that it's lacking – it's a highly effective system that will keep your dog safely within the area of your property.
It covers a total area of 100 acres, with additional wires and flags available if it's necessary for you to extend the area.
It's ideal for dogs that weigh 10 pounds or above and the waterproof collar uses a standard 9-volt battery which will last between 6-12 months. For containment and correction purposes, there is a tone and four vibration options in varying strengths that allow you to train your dog to remain where you want them.
The digital transmitter is the item that you keep in your home to monitor the wire and the adjustable distance. Depending on where you want to lay the wire, you can extend or contract the area where you can keep your dog.
You can bury the boundary wire or alternatively affix it to something solid in order to lay your boundary area.
When training your dog, there is a series of instructions included in the kit which will help you to teach your dog effectively so that they quickly learn what you expect from them. Being consistent with your messaging and training is vital if you want to get your dog to become compliant with you.
Pros:
·        Comes with a 2-year manufacturer guarantee as standard so that you can make your purchase with confidence
·        Good customer care support for any issues you might have when getting started
·        The battery lasts longer if your dog doesn't go near the boundary – it's worth putting a lot of time into training them effectively at the beginning
Cons:
·        This fence system doesn't come with a remote training option, and has only been designed for containment purposes