Reading Time:
10
minutes
How does a magnetic collar help dogs with arthritis? 
You want the best possible life for your dog, and the idea that they may become ill or have unexpected medical needs is unfortunately a fact of life. That's why it's important for you to be able to make informed and empowered choices to support your dog's health based on expert advice and recommendations from your veterinary professional. 
Arthritis in dogs is a condition that causes stiff and painful joints, making it difficult to move and one which gets progressively worse over time. It's a very common illness which affects one quarter of all the dogs (over 80 million) in the United States in some form. 
Sadly, the number of cases of canine arthritis is expected to rise over the coming years, and it can be quite an expensive condition, with estimates that it may cost a dog-owner over $4000 a year to treat. On average, a dog will be 9 years old when they are diagnosed and treated for arthritis. So, with all this in mind, what can be done to care for your pet? 
As with any medical issue, we would always advise you to consult with your veterinary practitioner to get the best advice on how to treat your dog. Some common treatments for arthritis would include pain relief, joint supplements, hydrotherapy and surgery in extreme cases. However, recently, the use of magnetic collars as a supplementary form of therapy has grown in popularity. 
The premise is that magnetic dog collars will encourage blood flow around your dog's body, correct imbalances and naturally stimulate regeneration of cells in order to heal the affected area. It's worth noting that this form of treatment hasn't been officially listed by the American Veterinary Association, but in fact has been proposed by the American Holistic Veterinary Medication Association. The use of pulsed electromagnetic field therapy (PEMF) has been used to soothe pain and improve dogs' quality of life. A 2019 study found that PEMF contributed positively to wound healing and reduced the need for pain medication. 
What are the potential benefits of using a magnetic collar to treat your dog's arthritis? The advantages include the fact that it is affordable, non-invasive and non-toxic and easily applied at home. There are no side effects to this form of therapy which will put your mind at ease as a pet owner. It is put forward by advocates of magnetic therapy that the magnetic action speeds up the healing process to assist in healing injuries.
The idea is that magnets utilize the action of molecules over specific areas of the body which are causing pain in order to stimulate blood flow and circulation. It may be effective for your pet, and in fact multiple dog owners have attested to its efficacy. One of the main challenges is how to keep the magnets targeting the body full-time because you know better than anyone how much your dog likes to move!
That's where magnetic collars come in. As a really affordable solution, they can be placed on your dog as normal as their own regular collar. There's quite a few available in the market to buy, so we'll do a deep dive of the best ones and outline their key features. 
As a warning: it must be noted that your dog should never, under any circumstances, be allowed to consume the magnets. The neodymium can cause serious illness and make your dog very sick. Medical disclaimer: magnetic therapy proacts are not sold as medical devices and no guarantee of effectiveness is made.
Top 5 Magnetic Dog Collars To Reduce Arthritic Pain
1. Promagnet Magnetic Therapy Pet Collar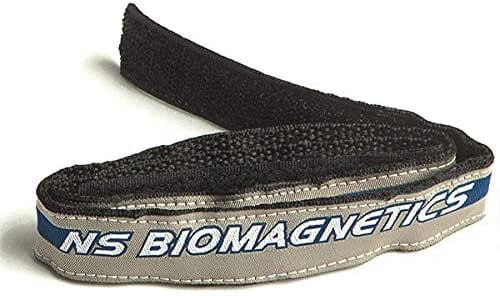 This pet collar is a really great addition to your pet's medical arsenal to support their healing and relief from the effects of arthritis. Coming in a range of sizes from extra-small to extra-large, it's suitable for smaller and larger pets.
If you are new to the world of magnetic therapy, they are most commonly measured in units of gauss – this refers to the unit of measurement of a magnetic field. This collar uses magnets with a 12,000 – 12,300 gauss rating (for comparison, a normal fridge magnet has approximately 10 gauss). In terms of technical specification, the collar contains four 0.5 North-facing neodymium magnets. 
Your dog will likely not even notice that they are wearing this lightweight collar which closes securely with a Velcro fastening. 
Measuring 6.5" x 1" x 1" and weighing just 0.09oz, this will quickly become a fast favorite of your dog and they'll look for it to be placed on them every day.
Pros:
The collar's material is quite soft and won't irritate your dog's skin – a relief, especially if you dog gets fussy with new types of collars 
Has one of the highest rated gauss magnet measurements of collars in the market, giving your pet the greatest opportunity for accelerated healing
Can be used either indoors or outdoors and in a variety of weather conditions 
Easily to apply alongside your pet's normal collar (e.g. while they're out for a walk)
Cons:
The Velcro strap means that it's not as secure as it could potentially be. If your dog is particularly vigorous, there is a possibility that the collar could come loose.
It's not easy to customize the collar by adding in your dog's name 
2. OneTigris Tactical Dog Collar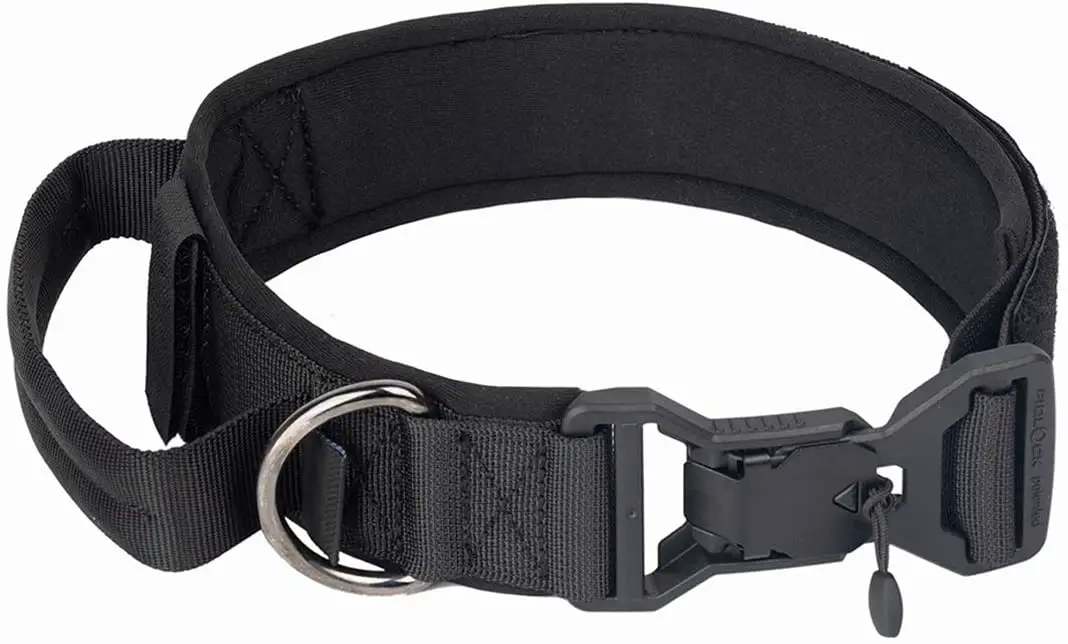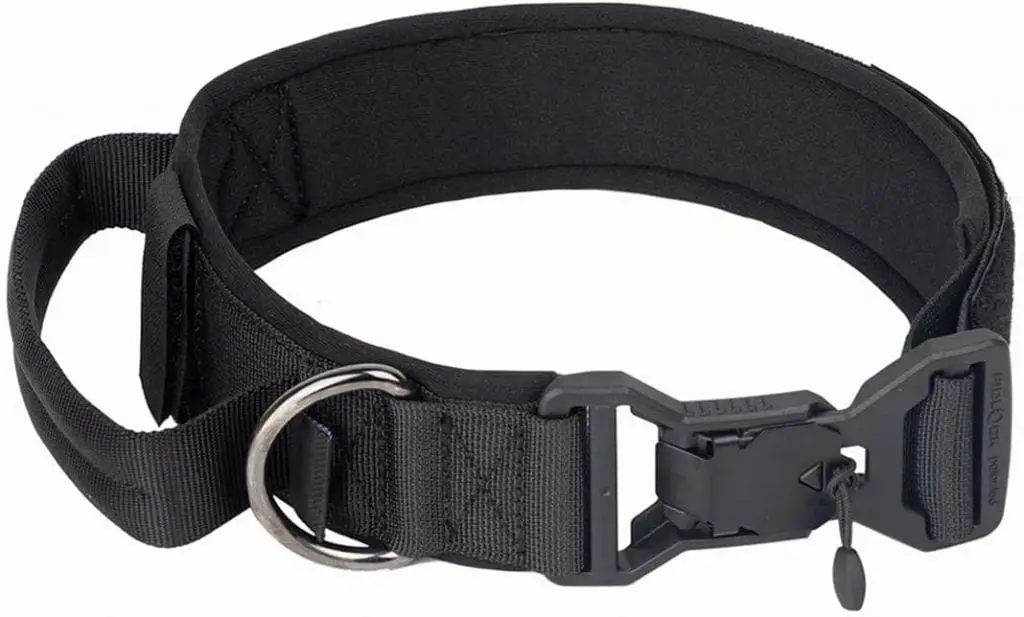 This is a really wonderful example of a high-quality dog collar with unique features that make it a simple choice. If your pet gets antsy when putting on and removing their collars, OneTigris have made the collar for you.
Its key feature is that it's quiet and low-noise and won't confuse your dog with rustling or fastening noises. The quick-release magnetic buckle slides pop open and shut closed very easily, but crucially, they are made from quality materials and won't come apart. The special pull-and-release silent Fidlock buckle ensures that you won't need to worry about any unexpected breakouts. The collar has been strength tested and works up to 176lb of resistance and works best on medium to large-sized dogs. 
Another brilliant feature is the name patch panel so that you can customize the collar for your pet. As well as this, the collar comes with extra thick double-layered neoprene padding to provide your dog with the ultimate comfort when you're out and about. 
Measuring 16.6" in length and 1.75" in width, it comes fully adjustable so that it can grow along with your dog. Reassuringly for those who have excitable dogs, it comes with a grab handle which is reinforced with stitching – so there will be no accidental dashing off into traffic! This collar is multifunctional and can be used for relaxed walks, training sessions, hiking or for dog school. 
Our favorite point about this collar is that if you have arthritis in your own hands, this collar makes it extremely easy for you to get your dog ready for a walk. 
Pros:
Adjustable collar means that it fits many different sizes, and you can use it for longer as your dog grows from adolescence into adulthood
The grab handle is a neat little feature that gives you extra reassurance in maintaining your pet's safety
The name plate is a great way for you to add in your pet's name and phone number – on the off-chance that they run a little too far in the park!
The padding is built with your pet's comfort in mind and is suitable in different weather types. 
The collar is great for training and will help your dog to understand that there are certain rules they must follow during training
Cons:
While it's easy and intuitive to use, it might take some getting accustomed to the release buckles and adjusting to your dog's ideal fit
The grab handle could potentially get caught in a briar or other object while out walking, so care is advised 
3. WalkingMate Magnetic Collar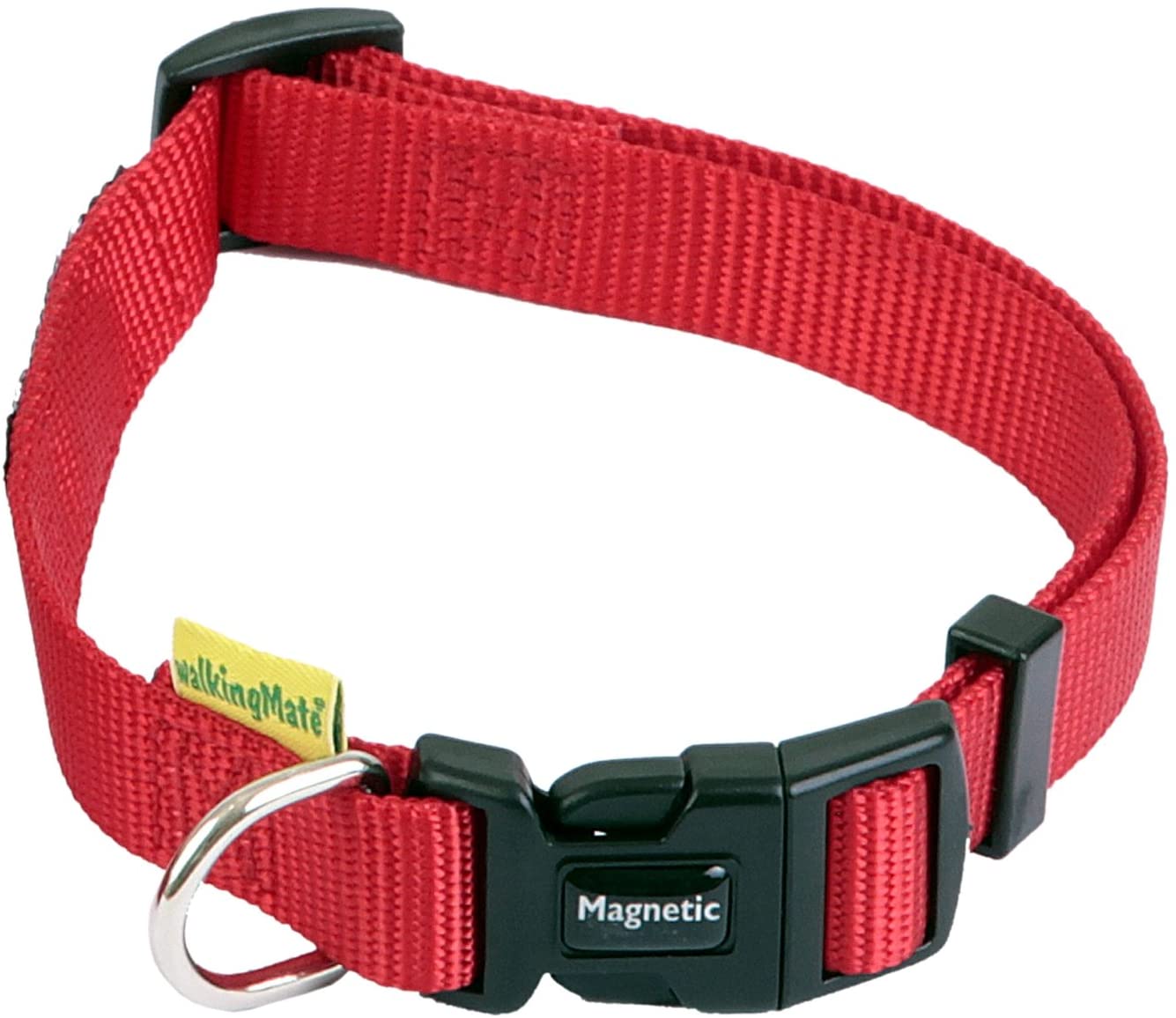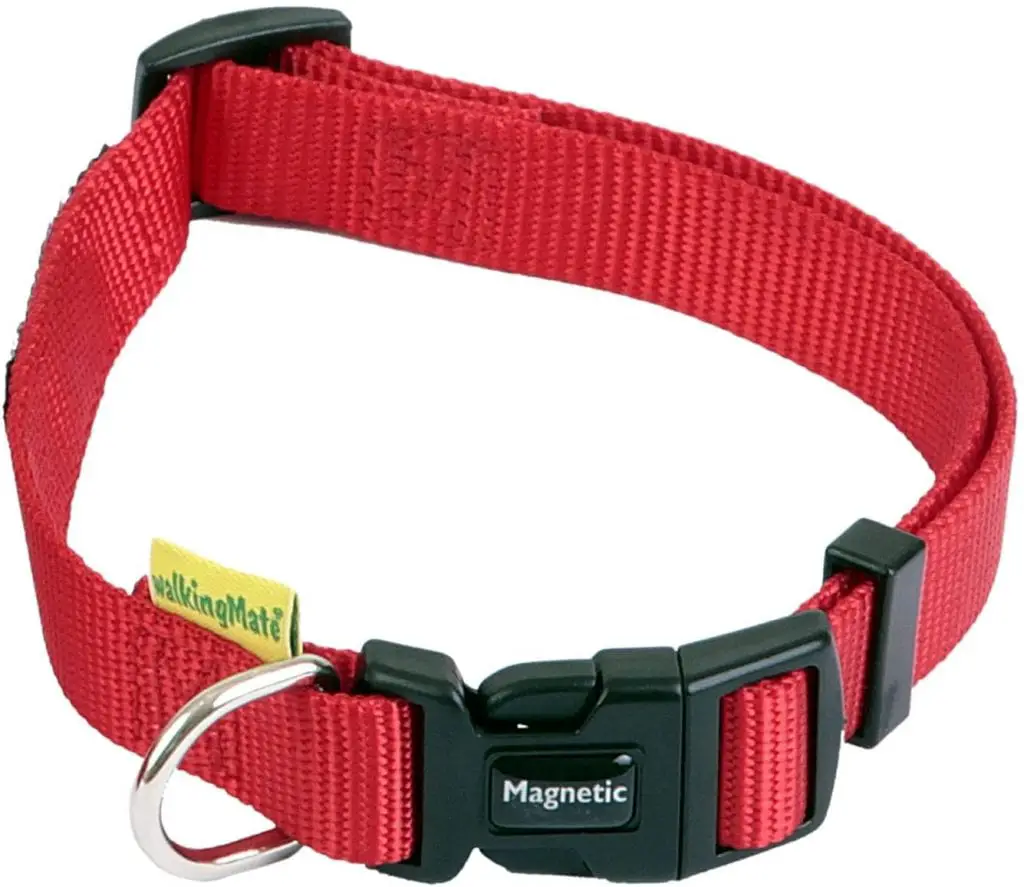 This beautiful red collar is a lot more powerful than it may appear. The walkingMate brand is known for its collection of effective animal care products. In developing this magnetic collar, they have made a multifunctional device which can be used to take your pet for a walk and also contribute to their healing if they have stiff or arthritic joints.
Sold at a very reasonable price, it's hard not to pass this collar by without adding it to your pet's collection of items. With the ability to adjust the size so that it's suitable for dogs of all sizes, it's also a great buy for a puppy as they grow.
But it's the magnets that make this item special. With a powerful magnet strength of 2000 gauss, the collar can be used to support your dog, especially if they are suffering from arthritis. The objective is for the magnets to improve blood circulation and relieve the tension and aching pains for the animal. The magnet on this collar can penetrate up to 3.14" into your dog's body to relieve tension. 
The collar measures 11.8" by 3.15" and is a bright red color, made from nylon to ensure that your pet has the most comfortable possible experience and will grow to love their magnetic collar.  It weighs just 1.41oz and can be securely fastened in place using the strong plastic clips. 
The best feature of all is the relief that can be experienced by using this collar. Users have reported that their dogs with arthritis have found some comfort from using it.
Pros:
A no-frills attached and sensible collar that will last a long time and will fulfil its purpose well
Helps support dogs suffering with arthritis using magnetic therapy 
The clip fits most standard dog leashes 
Adjustable collar so that you can make maximize its use
Fits well on most dogs for their ease of walking 
Cons:
For the number of features included, the price is a little higher than you can get from some other models 
The magnetic clip isn't as powerful as other models available at this price range 
4. ProExl Copper Magnetic Therapy Dog Collar
If you haven't yet been introduced to the revelation of copper and how it can improve circulation and reduce the inflammation and pain associated with arthritis, you've been missing out. A 2004 study published in the British Medical Journal found that wearing magnetic bracelets decreased pain from osteoarthritis in humans. It was natural for advocates to identify whether similar results would appear for dogs and other animals suffering from osteoarthritis. 
This collar has received rave reviews from dog owners who have said it has helped with their dog's symptoms of arthritis. The chain looks like a normal human chain but has been specially adapted for animal use, with a secure clip. It comes in a range of sizes from 14" to 32" and it's advised that you measure your dog's neck size carefully. It's also advised to get a size that's on the looser side rather than too tight. As a rule of thumb, add in 2/3 fingers when measuring to ensure that your dog gets the most comfortable experience. 
Not only made with natural copper, the collar also contains four 1700 gauss neodymium magnets to alleviate the pain associated with arthritis.  It's very light, weighing just 11.22oz, and it's highly rated for its simplicity and effectiveness.
The seller is very responsive and available to provide extra support if you have any questions or need some technical input, which will put your mind at ease. 
Pros:
The reviews from verified dog owners are a testament to how effective magnetic copper therapy can be for your dog if they have arthritis
This is not a collar in the classic sense where you can add a leash (definitely don't do that with this collar!) Rather it's meant to be used like a necklace and for the purposes of pain relief and therapy
The collar can be worn full time for longer-term relief for your pet 
It's made from high quality copper and once it's been fitted correctly, it's a snug and comfortable fit 
Cons:
The size is not adaptable, so you will have to buy the desired size 
The look of the chain can get some getting used to and you might get some funny looks from passers-by as it might appear you've given your dog a human necklace!
5. Magnetic Therapy Dog Pet Collar (Large)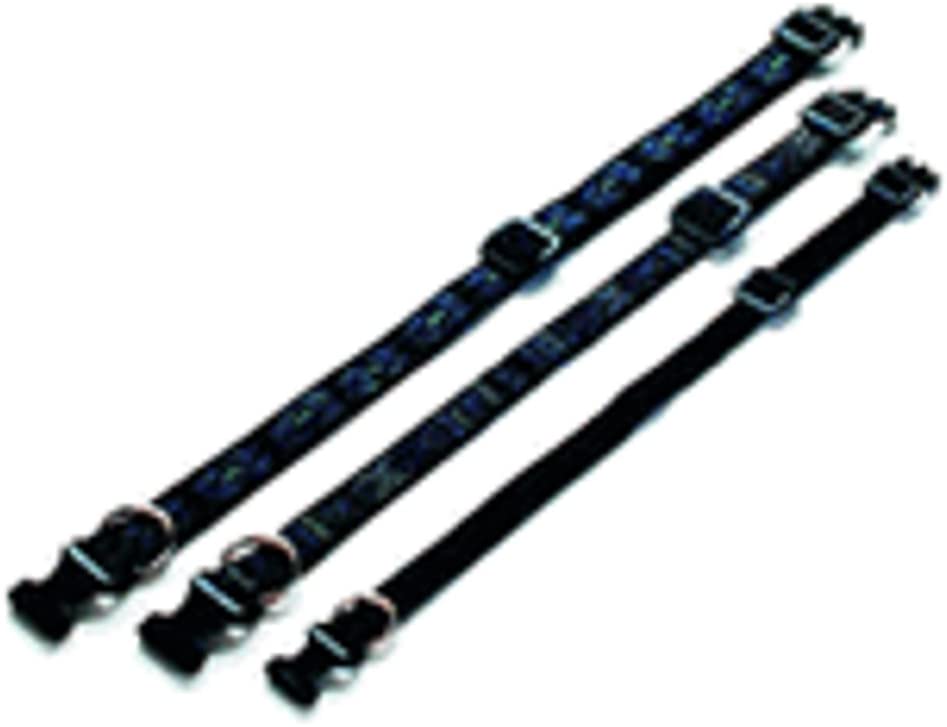 Our final pick from the top magnetic therapy dog collars is this one from the Serenity brand. We like this one because of the thoughtful features that have gone into its design. With sizing options ranging from extra-small to large, the manufacturers have recognized the need to increase the number of magnets along with the size of the collar. This is a valuable feature that ensures the collar will provide your dog (no matter what size) with the benefits of magnetic healing therapy. The manufacturer includes a useful sizing guide on their website so that you can be confident when ordering your size. 
The extra small collar measures between 9" and 13" in length and contains four magnets. The small is between 16" and 20" and also has four magnets. The next size up, the medium size, is between 20" and 24" and comes with six magnets. Finally, the large measures between 24" and 28" and has eight magnets. The manufacturer has indicated that the magnetic surface rating is 4000 gauss with each magnet measuring in at 800 gauss, with the ability to penetrate approximately 4" into the body. 
The collar can be closed easily using a plastic buckle and there is a metal clip so that you can easily put your pet on the leash and head off for a walk. It's great to be able to use a specialty collar that doubles up as an everyday collar. We also like the look of the collar too – it's simple, functional yet stylish in its own way. 
Pros:
The material is made from a strong nylon fabric (standard for dog collars) and is built to last 
The clip makes it easy for a leash to be attached 
If your dog is suffering from arthritis, they should be able to wear this collar throughout the day or just for walks. It's comfortable enough to be worn for longer periods of time
It's very lightweight, weighing in at just 2.4oz and your dog won't even notice that they're wearing it – perfect for fussy pets
The buckle is easy to open and easy to close, meaning that you can get your excitable dog out for a walk with ease!
Cons:
There isn't a dedicated section for a name patch or phone number to write your contact details on the collar 
The collar only comes with a minimum amount (2") worth of adjusting ability, which means that you will have to be really exact with your measurements before purchasing