Reading Time:
10
minutes
Is any dog toy actually 'indestructible'? 
Sometimes it can feel like your dog has two very distinct settings: play and destroy. And while you would love for your darling pet to just quietly and calmly enjoy the new toy you've just spent a considerable amount on, that often doesn't happen. 
Why do dogs try to destroy toys? Are they deliberately trying to make you frustrated? The answer is of course, no they are not. Dogs are very simple creatures but with some powerful genetic instincts they can't always control.
Some of these instincts are easily provided for, including the need for socialisation and the desire to show affection. But did you know that the animal behaviourists have theorised that the reason dogs like squeaky dog is because of ancient instincts? They have put forward the theory that dogs enjoy the 'destroy' phase of playing with toys because it fulfils some primal need to kill.
But when it comes to providing stimulating toys for your dog, would they even be satisfied with a toy that is indestructible? You may have noticed that some of your pet's favourite toys are the ones that they rip apart and ruin. This is endlessly frustrating if you have to keep buying the same toy over and over just to have the same situation repeated – but it brings them a lot of happiness!
Are there any toys that can stand up to your dog's destructive tendencies? A Google search for 'indestructible dog toys' will show that most toys will advertise themselves as so, even if you know from personal experience that's not accurate! 
It's clear that dogs will never stop trying to rip, chew and gnaw their toys. As a pet owner, the best way to keep your sanity is to find a truly indestructible toy that will make them feel as though they're almost there, and so keep their interest maintained.
Why are specific toys for smaller dogs better than a generic 'tough' toy? 
If being the owner of a lovely canine companion has taught us one thing, it's that not all dogs are the same and it's never a good idea to assume that what works for your friend's dog is what will work for yours. 
Whether it's food, snacks, cuddling, sleeping, walking preferences, there's a million and one ways for your dog to express individuality. When it comes to toys, it's a good idea to know what your dog's preferences are. This will save you lots of money in the long-run and will also give your dog the most stimulating experiences. And as we all know, a happy dog is a (sometimes) well behaved dog!
How do you know the best type of toy for your dog? There are a couple of key factors to think about when buying toys:
Breed
Personality and temperament
Size
Health and age
Playing preferences
Physical environment
If you have a small dog, you will want to invest in a toy that is both safe and is designed for the enjoyment of a smaller animal. This will give them the right amount of stimulation and pleasure. 
You wouldn't buy random types of food for your dog and just guess their favourite type – it's something that should be carefully researched and thought about based on their abilities and preferences. When buying a toy for your small dog, you want to be safe in the knowledge that it will make them both happy and healthy. 
1. Sharlovy Dog Squeaky Toy (No Stuffing) – 6 Pack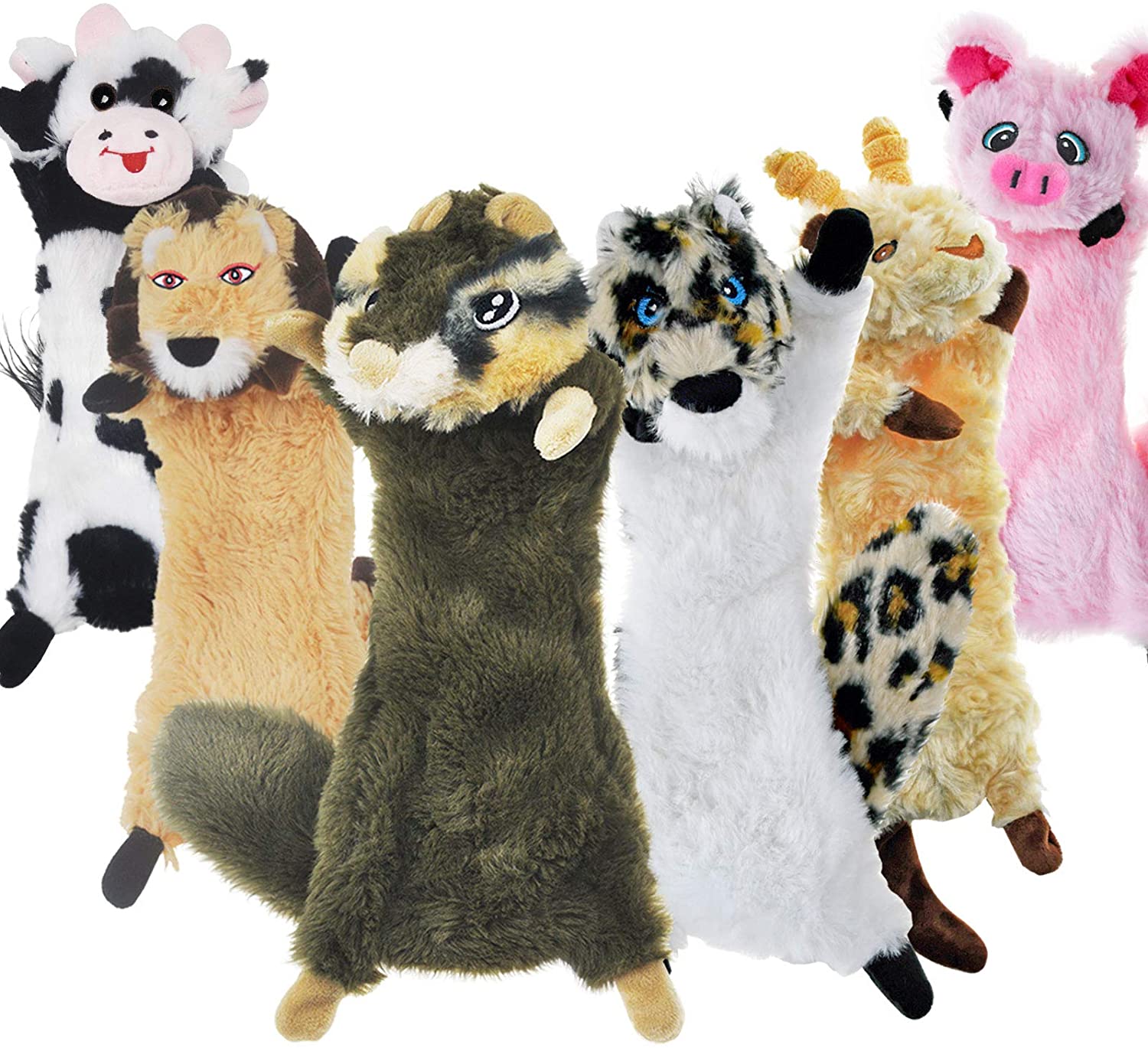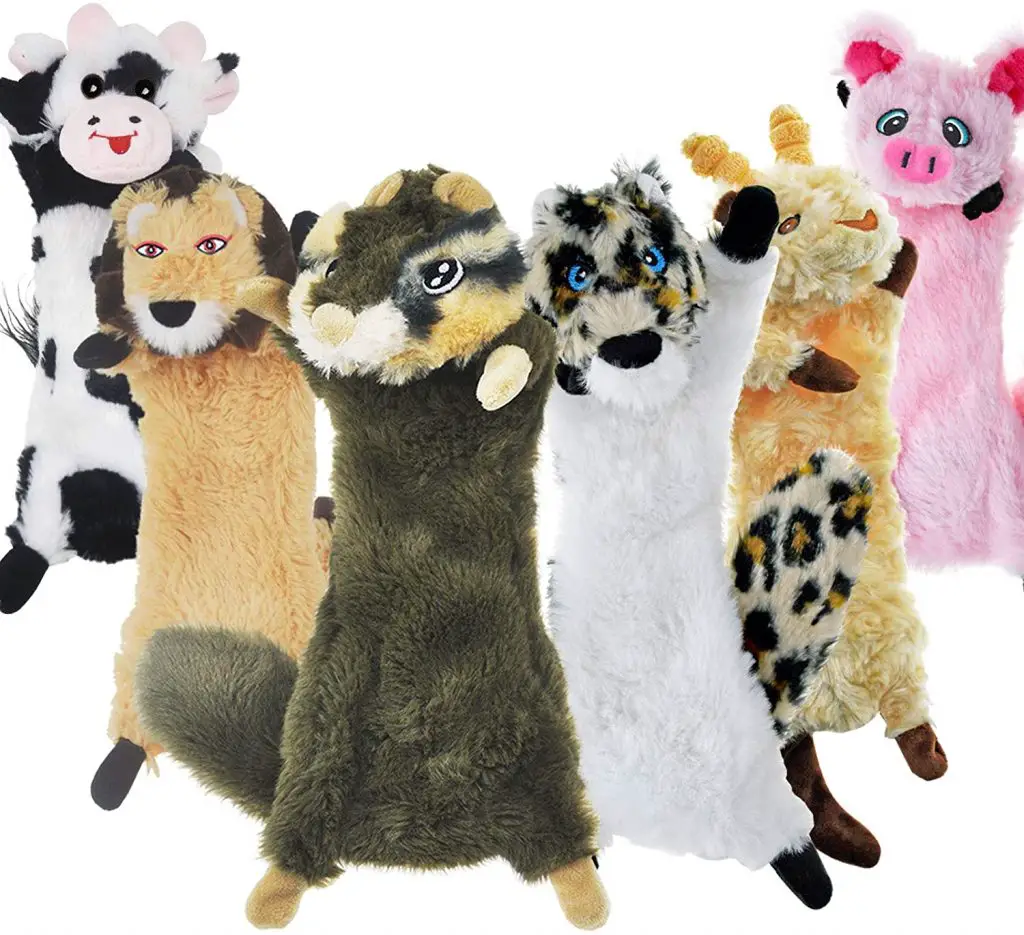 While this is not an indestructible toy, it is a very durable one and is built to last, especially if your dog is not an aggressive chewer. Your small dog will love the many features that have been packed into this set of 6 toys.
First, they have been created without any stuffing inside. If, like me, you've spent far too much time picking up bits of fluffy stuffing from yet another massacred toy, this will bring you peace in knowing there is no way for them to access any of the toy's innards.
Next, there has been special crinkle paper placed strategically inside. Most dogs are fans of crinkle paper in toys and find it hard to resist playing and trying to discover the source of the noise. 
The best part of this toy is the range of different animals inside. Stimulation and new experiences are the most important thing for small dogs, and with this pack, you can choose whether to let your dog play with the chipmunk, pig, cow, lion, lamb, or leopard toy.
For dogs who like to snuggle up with a plush toy, this is a fantastic one. It's incredibly soft, floppy and lightweight, giving them the comfort of a little inanimate friend. They are shaped individually according to the type of animal toy.
It also comes with a squeaker inside, for your small dog to play with. The noise is size-appropriate and won't make them overly afraid of the commotion. It's also perfectly designed for your dog to both sleep with, pick up, toss, bite and run around with. 
Safety is paramount and there are no major risks associated with these toys. With stitched on eyes, no loose parts, thick stitching and durable fabric, there is no need to worry that your pet will be in any danger when playing with the toys.
Pros
A great price for 6 toys
Made with 100% non-toxic materials for your dog's safety
Lightweight but heavy enough to provide a challenge to the dog when biting or playing a game
Perfect for keeping different toys in different rooms to provide stimulation and prevent overuse of one toy
Quite realistic looking animal shapes which children can use to play with the dog
Cons
Not indestructible 
Squeakers may lose some strength over time 
2. WingPet Dog Chew Toy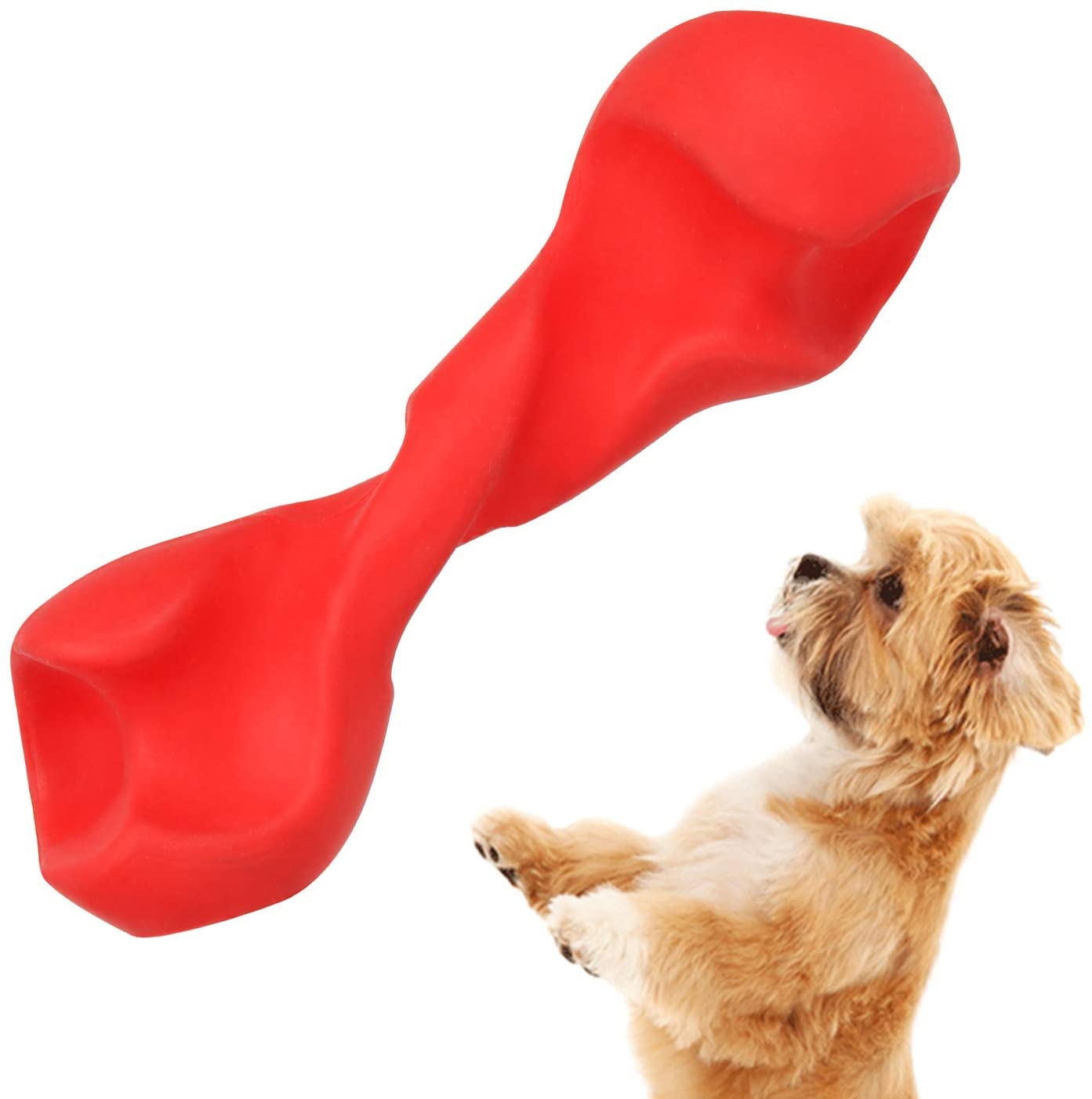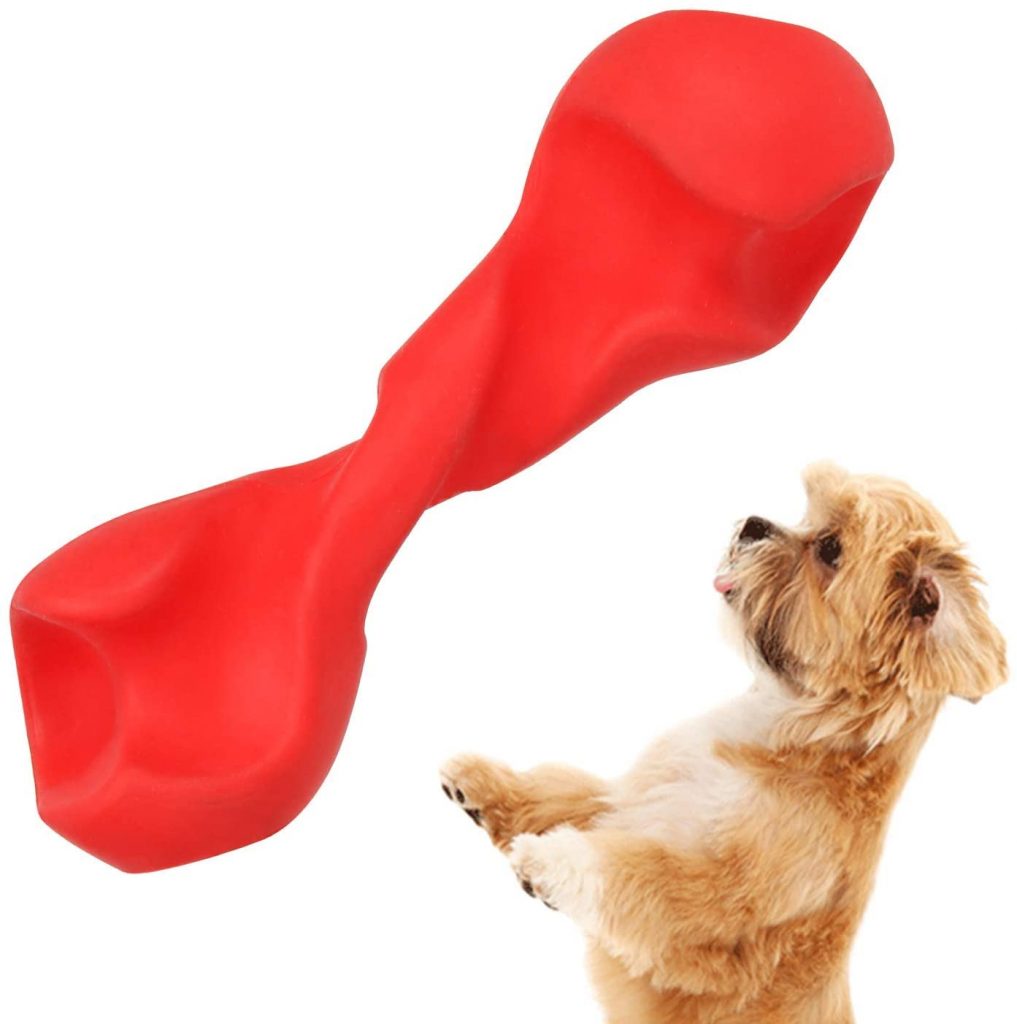 There's nothing better than a toy that has multiple functions and purposes. This very strong dog chew toy has been designed to keep your dog occupied during play, but it also works for training purposes and also helps to keep their teeth clean.
Shaped like a bone, but with lots of carefully designed twists and curves, this toy will provide endless enjoyment for your dog. Coming in two sizes (one for small dogs and one for medium to larger sized dogs), be sure to choose the right one for your pet.
It's made from natural rubber and all non-toxic material. We love how flexible it is but with a lot of natural resistance to provide lots of stimulation. It's very likely that your dog will try to gnaw through it, but they will find it very difficult!
The manufacturer states that it's 100% bite resistant, which is welcome news to excitable dog owners. The sold core fortifies the structure of the toy making it impossible to rip apart or otherwise tear into the inside.
If you are not familiar with how chew toys can help your dog's oral hygiene, read about the benefits of using toys to maintain oral health here. Research has found that dogs who are encouraged to actively chew on toys or treats can reduce their plaque build-up by almost 70%. 
It's important not to give your dog a toy and then just abandon them while you scroll on your phone. Your dog enjoys toys but their greatest source of enjoyment in life comes from play time with their human owners. This toy is a great source of fun for tug-of-war type playing or the classic fetch. 
Giving your dog an opportunity to fulfil their destructive tendencies with a safe and durable toy will make them happy and this toy will definitely help them with that instinct. 
Pros
Durable and natural rubber, making it difficult for your little dog to damage and ensuring they get to use it for a long time
Very easy to clean – although there are lots of angles and sides, it's quickly washable if your dog manages to get it into some muck or dirt 
Cons
As with most rubber products, it comes with a rubbery smell which will decrease over time 
3. Hesland Dog Chew Toy for Aggressive Chewers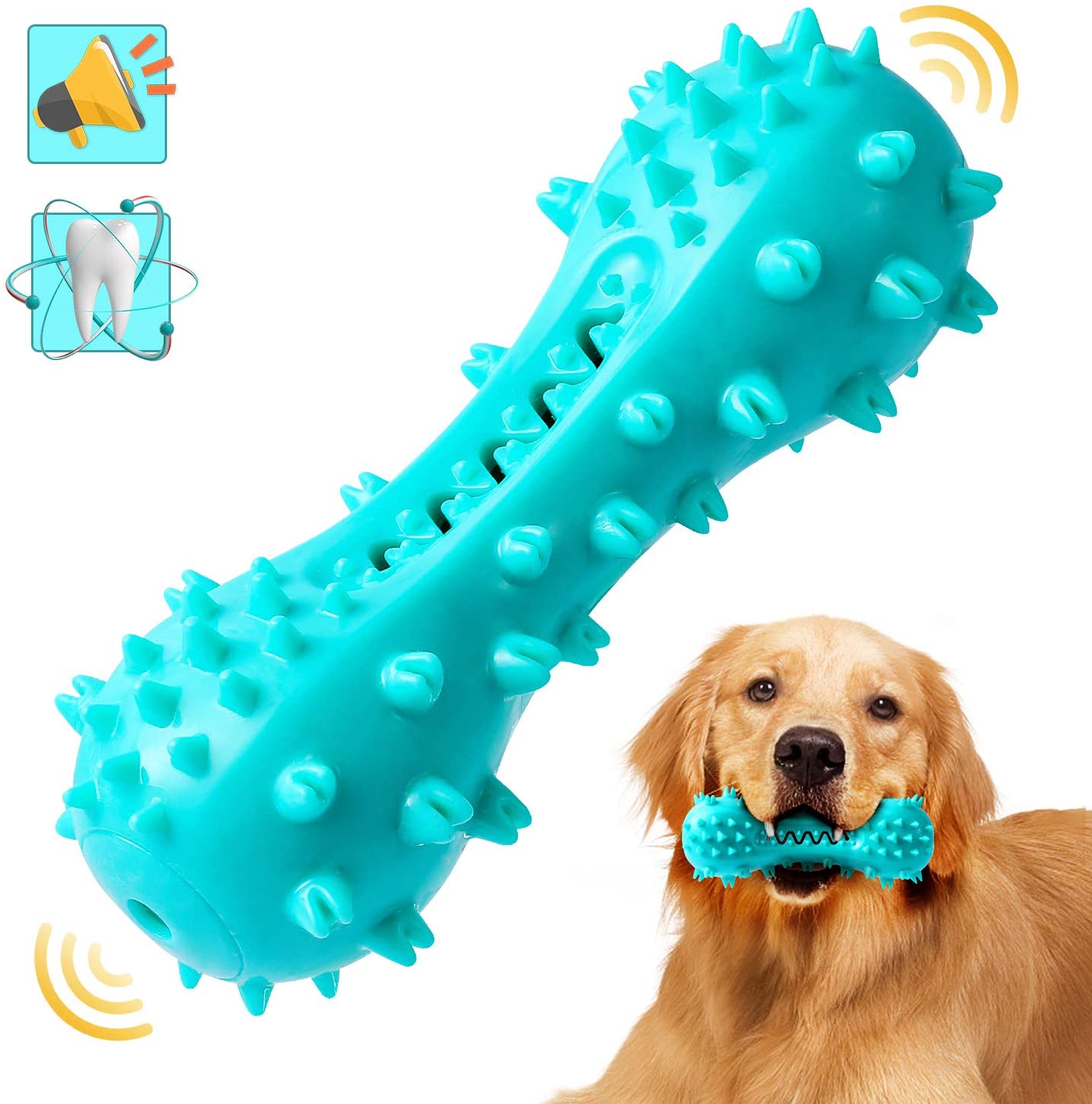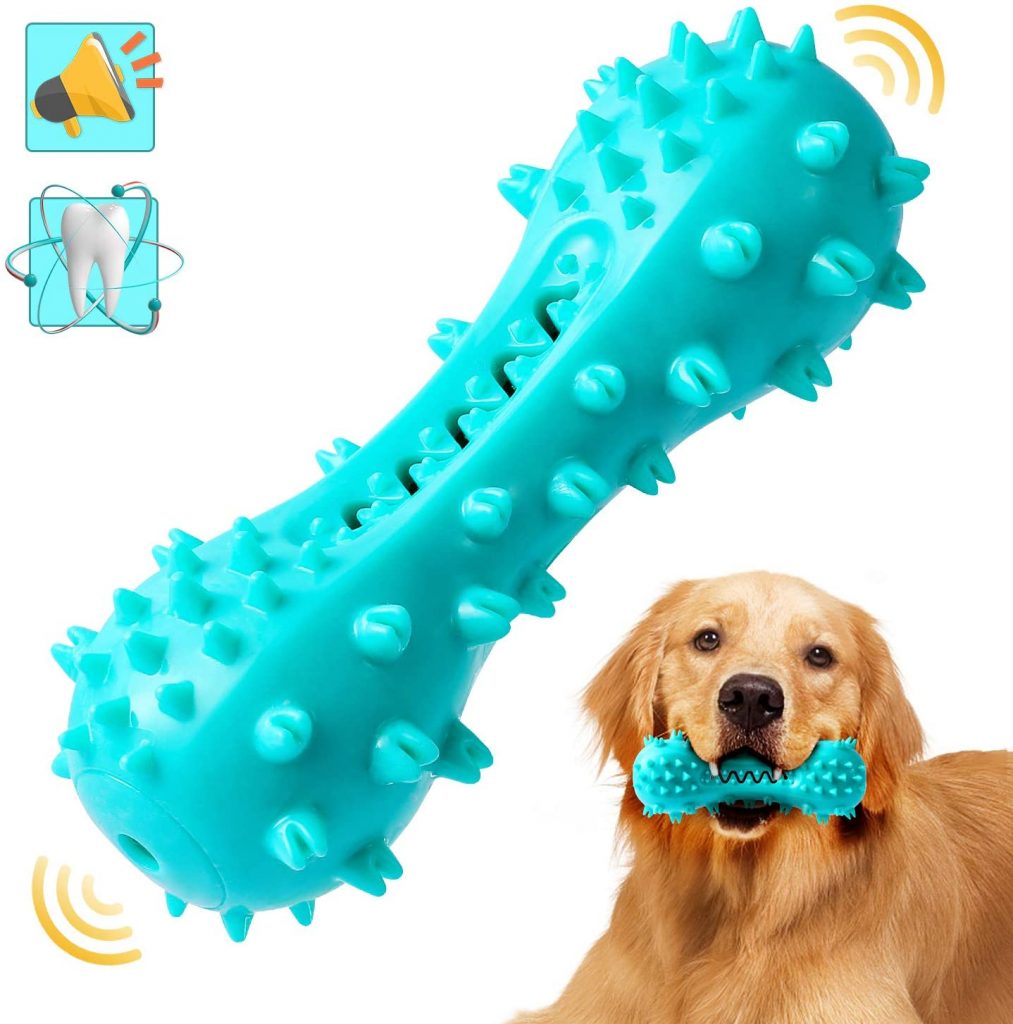 Another great example of a multipurpose and extremely resistant toy for small dogs, this will be sure to provide hours of fun and enjoyment for your canine buddy.
A toothbrush toy by itself is not a substitute for a good oral hygiene routine, but rather is intended to be a supplement and one which the dog can enjoy even as part of their normal play routine. Made with natural rubber, it has a number of bristles that allow your dog to experience different sensations and encourages inquisitive behaviour.
One option is to place dog toothpaste (be sure not to use toothpaste for humans as it can be toxic for them) on the bristles which helps them to keep clean teeth, fresh breath and healthy gums.
It's bite-resistant and durable and also comes with a natural milk flavour to further pique their interest. It can also be used as a training tool because of the built-in noise that it makes when squeezed. 
Our favourite feature is the section for spreading dog toothpaste, treats or peanut butter. Dogs love a little bit of a challenge when trying to get at a special treat, and the design on this toy is both accessible and stimulating. 
It's also perfect for human-dog playtime. Whether playing fetch or tug, this will quickly become one of their favourite toys. It's advisable to keep some level of mystery in your dog's playtime, so consider keeping it in one room, moving it around, or alternating the days on which they play with certain toys.
It should be pretty resistant for most dogs, especially if you have a smaller sized pet, but as with all dog toys, you should always supervise their play to ensure no accidents occur.
Sometimes with smaller chew toys it can be difficult to get the toy out of your dog's mouth, especially if they are feeling particularly stubborn! The twistable design on this gives them slightly less grip so you can take it away from them easily. 
Pros
It's soft and pliable but doesn't yield too easily, meaning that your dog would have to be an exceptionally aggressive chewer to damage this toy
Great squeaky noise that most small dogs should be delighted to jump on and try to kill
If your dog uses it regularly to enhance oral hygiene, it's likely you can save on vet dental bills
Cons
The milky smell is not overly strong, and it may not be evident when you first start using the toy
4. Vanfine Dog Squeaky Toys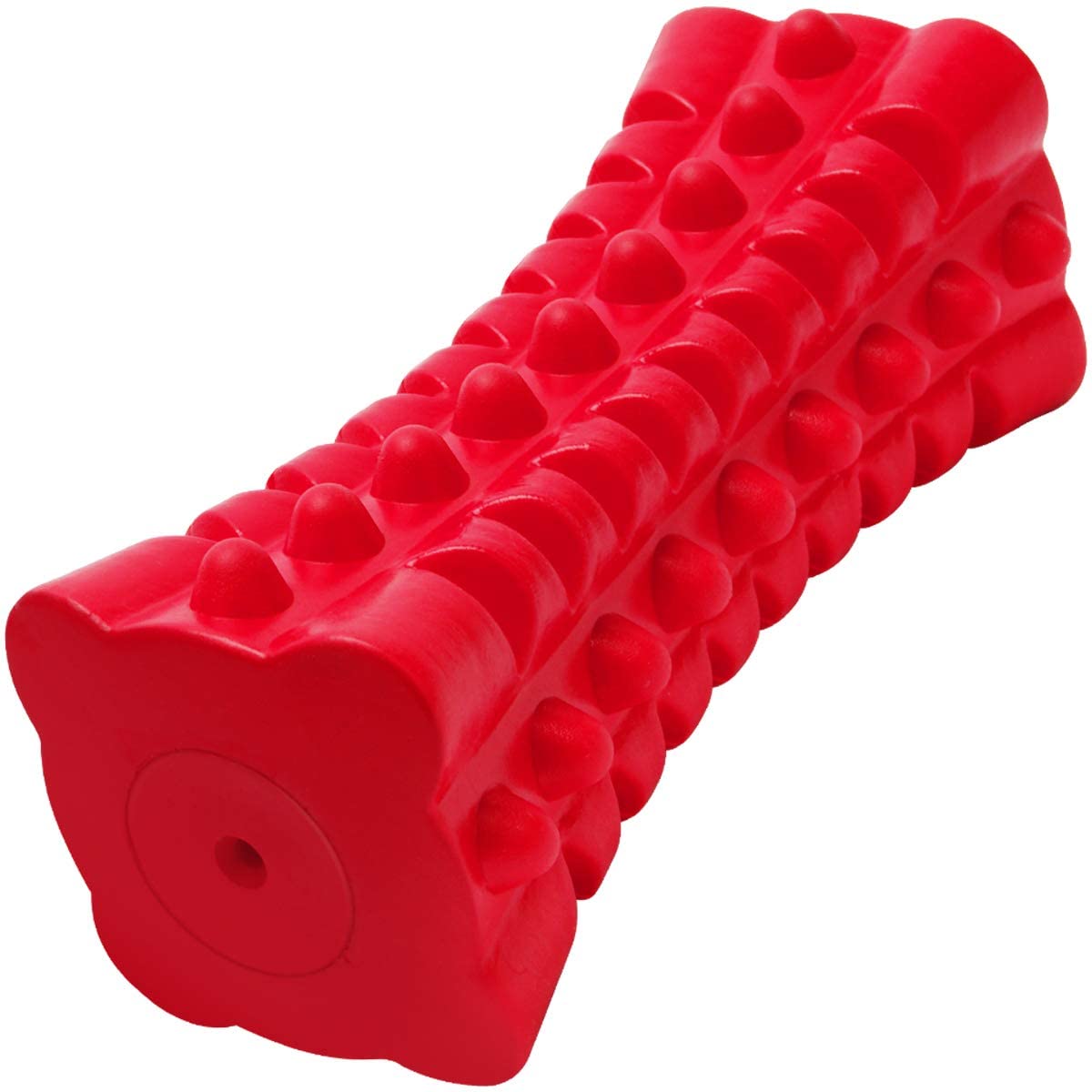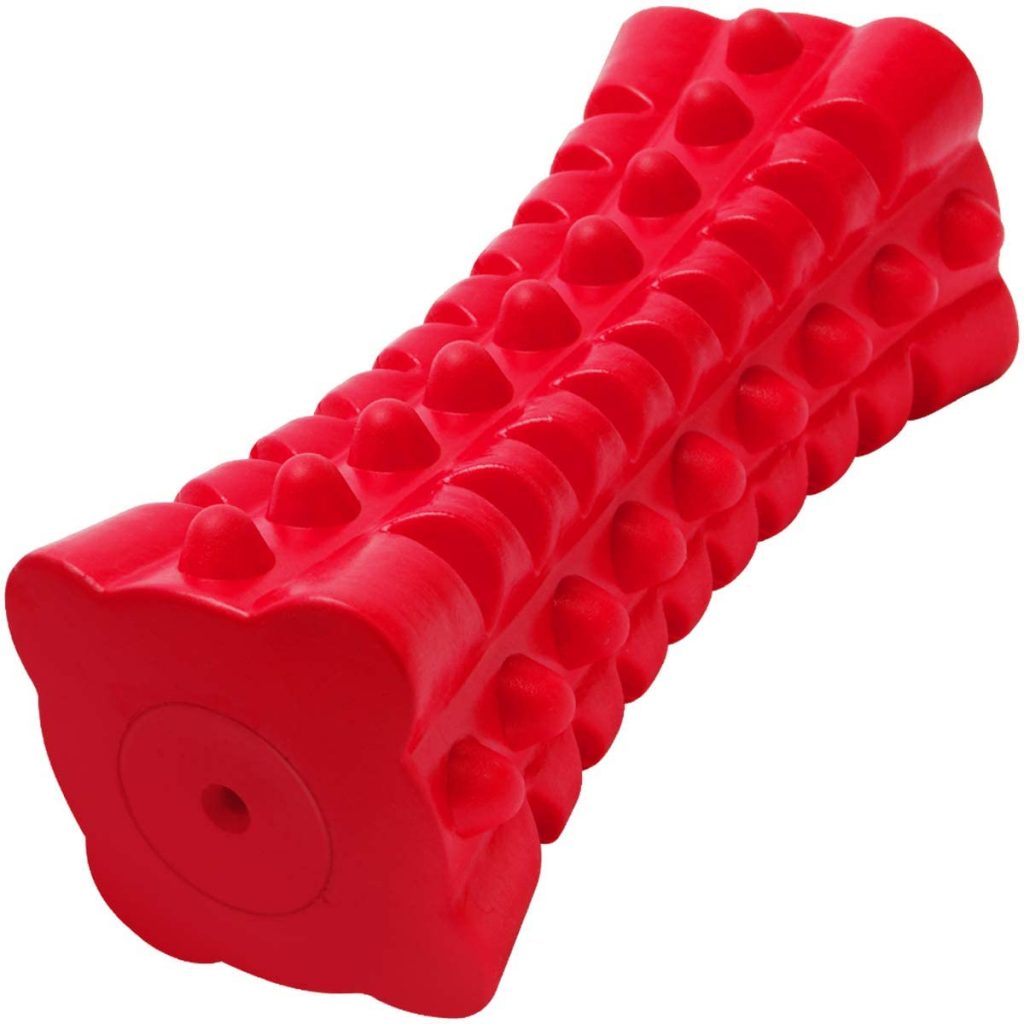 We love the design and build of this toy. If your dog is an aggressive chewer, they are likely to love using this toy and get endless hours of fun from using it. 
Made from non-toxic natural rubber, it's got a series of repeated grooves along its length and comes with a squeak function. You can also choose between a cube or cylinder-shaped toy. With its bright red colour, you won't be in any danger of losing it in the grass during a game of fetch. 
This is one of the most durable and (as advertised), is almost indestructible, meaning that only the most aggressive chewers would be likely to penetrate this toy. For the majority of smaller dogs, this toy will present a very enjoyable chewing challenge, but they will be unlikely to critically damage it. 
Adding flavours to chew toys is a trend in the dog toy industry that we have found is very popular with pets. This Vanfine toy comes with 100% natural beef flavour to provide an extra level of mystery for your dog.
Weighing just 9.5 ounces, and measuring 6 x 3 x 3 inches, it's the perfect size for the majority of smaller dogs. The manufacturer also offers an incredible lifetime replacement guarantee as they are so confident that your dog will not be able to damage it. Happy days!
Again, this is another example of a toy that will contribute to good oral health. It makes financial sense to invest in a durable toy that can also promote healthy habits.
It's hard to get a better quality toy than this one, and it's no surprised it ranks so highly in Amazon's pet supplies and dog squeak toys as a firm favourite among dog owners. 
Pros
Nice bright colour which makes it easy to spot when your dog drops it randomly in your back garden or around the house
One of the best toys for dogs who want to destroy and chew – and the company provides a lifetime guarantee of this promise
Has a great squeaking function and a strong beef flavour
Cons
No cons to report on this one – it's just that good!
5. Inshere Indestructible Squeaky Dog Toy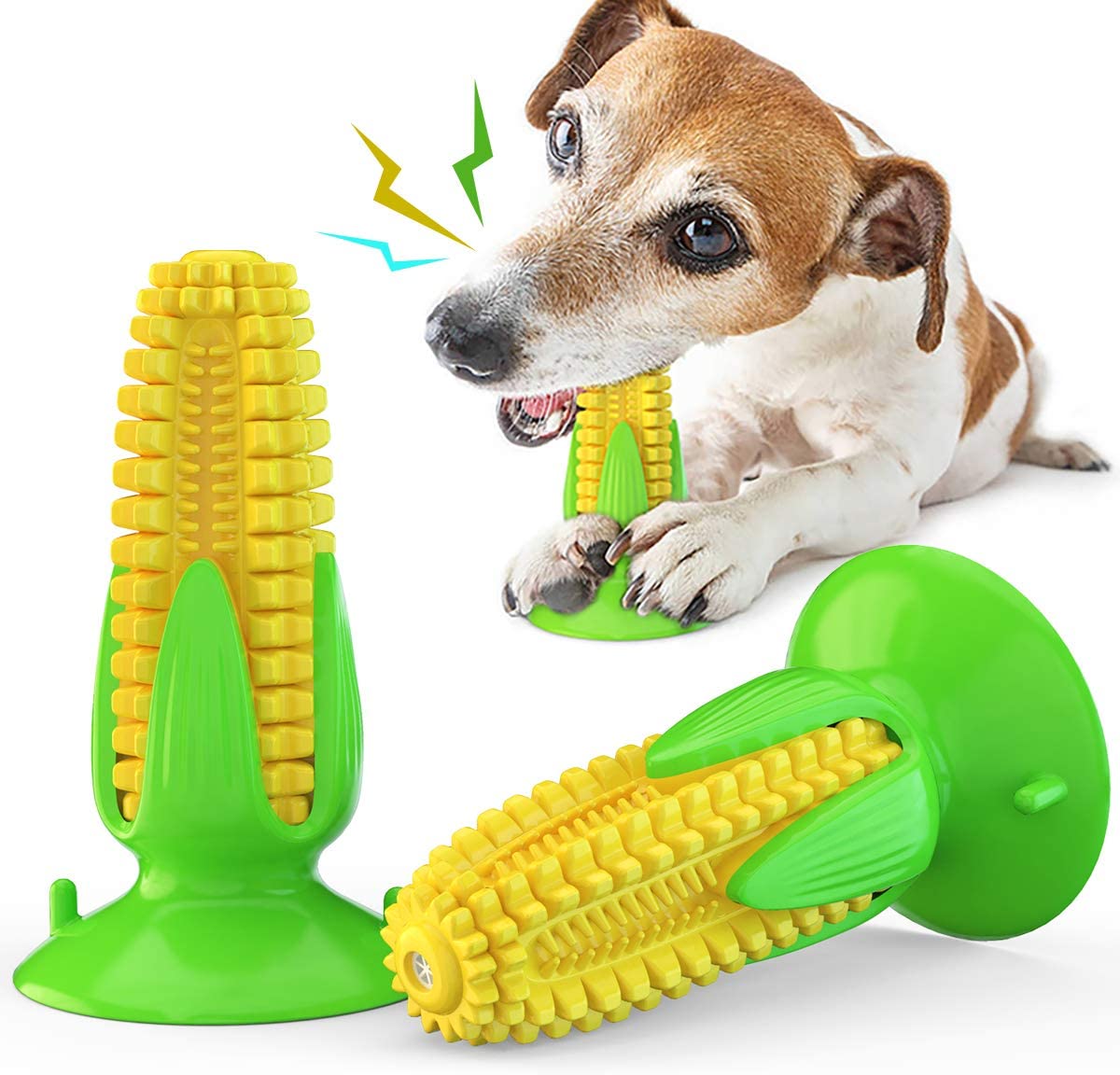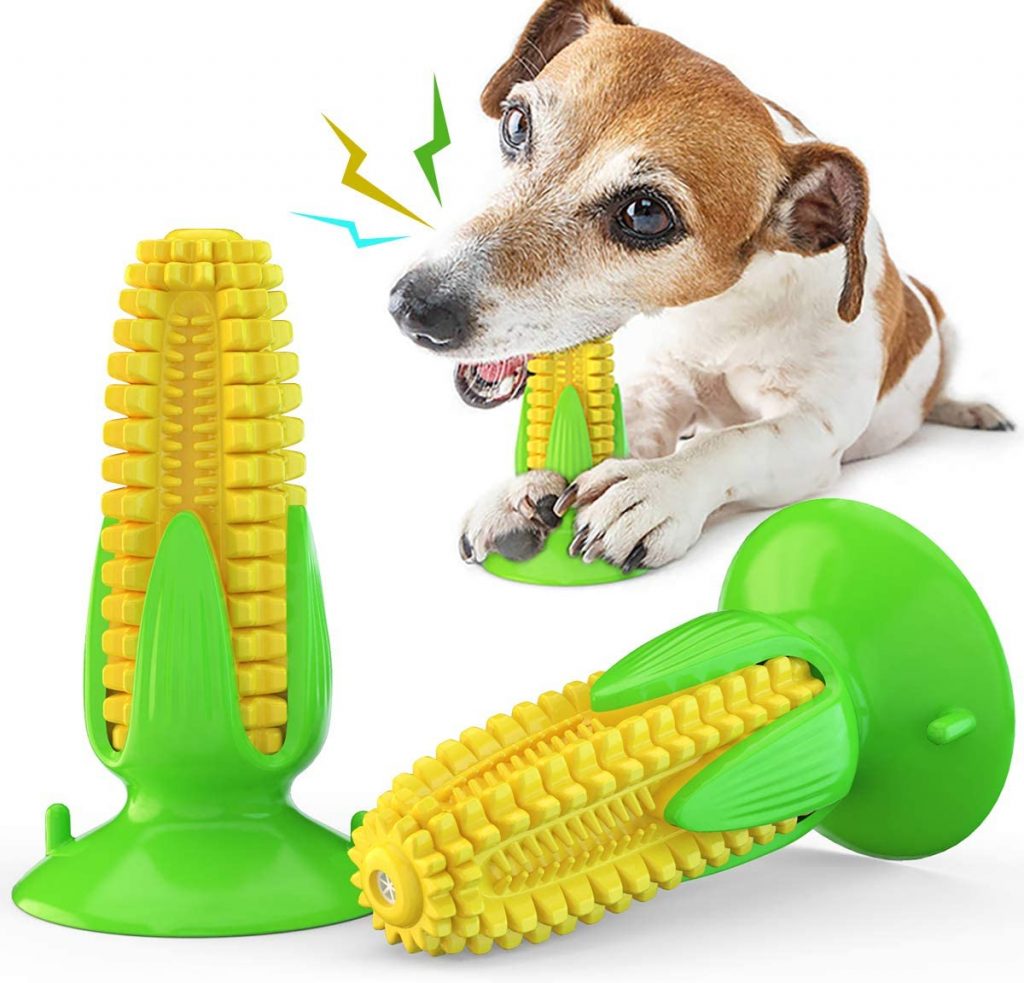 For our final toy in this article, it has to be this quirky and fun corn-shaped dog toy. It's got some excellent features and a cute design and is ideal for a smaller sized dog. 
As with all the other toys we discussed, this one also has a squeak function so that your dog can enjoy making a noise and give in to their natural predator instincts that the noise sets off. 
It's got a great little feature to help protect the different types of teeth that your dog has. With a dog's biting style in mind, the manufacturers have designed it so that each tooth can benefit from the cleaning. This helps to effectively get rid of any dirt or particles in your dog's mouth. It can also be easily used with special dog toothpaste to keep your dog's oral hygiene in tip-top shape.
We really liked the suction cup function at the base of the toy. This allows another element of interactive fun into your doggy play sessions. Try sticking it on the floor while they attempt to pull, drag, or bark it into moving!
The material is made from natural rubber and is non-toxic (which is always important for any dog toy) and should be suitable for most aggressive chewers. It's unlikely that they will be able to destroy this toy, but they will certainly have fun trying! Measuring 7 x 5 x 4 inches and weighing just under 6 ounces, your dog will have no problems in dragging, biting, dropping, and having a good time with it. 
The bright colour again is really fun and makes it look very attractive as a special toy (perhaps reserved as a treat or when they are behaving really well!) The mental effects of stimulating dogs with fun and challenging toys is well documented. It can be used as a training tool and as a toy for human-dog play. No matter how you decide to use it, your dog will have a good time. 
Pros
Perfect stimulating toy for smaller dogs 
Compatible with the use of dog toothpaste, treats or peanut butter for training, hygiene or playing purposes
Can help to reduce plaque and tartar building up inside your dog's mouth 
Another toy that has a good squeaking noise to give your dog the level of interaction that they love 
Cons
With the number of grooves present, it can be a little difficult to clean, especially if your dog has dropped it somewhere muddy!