Best Overall
Best For Money
Type
Rechargeable dog shock collar
Medium range remote trainer​
Electronic dog training collar
Training collars, also known as electronic collars or shock collars are handy tools for the dog owner who is serious about having a well-trained dog. In this article, we will provide a comprehensive break down of the best dog training collar (in our opinion, of course).
Training collars have been on the market for many years, and over time, they have become more practical, easier to use and safer for dogs and their owners.
Many dog owners think that training collars are only useful for training dogs to do special jobs or are for those particularly challenging dogs.
However, the training collars on the market today are great tools for any dog owner, especially if you are willing to take the time to learn the ins and outs of training collars.
The training collars on the market today, are different from the training collars of the past.
For a long time, a training collar was simply a shock collar.
The technology didn't exist to effectively make a training collar that was effective, size friendly, and reasonably priced with features like beeps, high pitched tones or vibration.
With improvements in technology, most training collars on the market are a combination of shock collar, vibration and sound.
This variety allows a dog owner to effectively train their pup, using the mode that works best for both the owner and the dog, without having to buy a bunch of different training collars.
In this article we'll breakdown the details of some of the best training collars on the market.
We'll show you their pros and cons, and help you make the best decision when it comes to buying a training collar for your pup.
Then, we'll help you further by giving you answers to some of the most common questions asked about training collars.
Hopefully this will make it easier for you to decide whether a training collar is right for you and your pup.
Our Reviews Of The Best Dog Training Collar
#1 Dog Care Training Collar – Rechargeable Dog Shock Collar
Dog care training color users advance anti-jamming technology which supports a strong and stable signal for multiple training environments.
These training collars are designed with low voltage, so the gentle static will not hurt your pet.
If you have more than 2 dogs in your house, Dog Care training shock collar would be the perfect option for you.
You can adjust the accurate static level for your dog. Also this dog training shock collar is size adjustable. Perfect for all size dogs (15lbs~100lbs)
Featured specs
Provides 3 extremely efficient and safe training modes (beep, vibration and shock).
Benefits
Supports maximum 9 dogs training, 100% waterproof
Offers adjustable 0~99 static level
Both transmitter
Receiver are rechargeable
Drawbacks
3 Lithium Metal batteries required
Extra features
The security keypad lock prevent any misoperation on the remote
Buying advice
If you have more than 2 dogs it's good option and try out for a month, most issues will surface within that time
Technical specifications
Type: Rechargeable dog shock collar
Range: up to 330 yards remote range
Dimension: 7.3″ x 1.9″ x 0.9″
Weight: 7 oz
#2 Educator E-Collar Remote Dog Training Collar
The Educator E-Collar provides a safe and humane dog training tool to improve effectiveness and reduce stress on your dog.
Educator training collars use the lowest levels of 'blunt' stimulus to improve behavior and reduce the stress of owning a dog.
Featured specs
User-selectable stimulation levels from 1 to 100 with additional boost stimulus selectable from 1 to 60, for dogs 5 pounds and larger.
Benefits
Available in variety of sizes and ranges
Handy stop watch design
Limited lifetime warranty
Drawbacks
Complicated to set up, pricey
Extra features
Waterproof transmitter and receiver
Shock resistant
Buying advice
Be sure to get the proper collar for your dog's weight and range.
Technical specifications
Type: Medium range remote trainer
Range: 3/4 mile range
Dimension: 2″x1.5″x1″
Weight: 2.4 oz
#3 TBI Pro Dog Shock Training Collar
Has your dog behaved the way you always wanted?
This high-quality dog shock collar provides a customizable training experience to help both expert trainers and new pet owners.
You small puppy or large dog is sure to behave the way you desire with effective beeps, vibrations or small shocks.
Featured specs
3 modes including beep, vibration and shock
The vibration and shock modes have levels ranging from 1-100 for personalized training. It fits dogs ranging from 10 to 100 pounds.
Benefits
Durable
Lightweight
Collar is completely waterproof
Flashlight on the remote
Drawbacks
The remote transmitter is NOT waterproof
Not good for dogs under 10lbs
Extra features
Huge LCD screen & separate buttons with an ergonomic build that is comfortable to hold and easy to control
Buying advice
If you ever have any issue with your training shock collar, the manufacturer will provide a full replacement or refund
Technical specifications
Type: E-Collar shock collar
Range: Range of up to 2000 feet
Dimension: 1" x 2.5" x 1.25"
Weight: 5 oz
#4 Peteme Dog Training Collar
Whether you have a puppy with a penchant for barking or you wish to train your dog to stay in the yard, you should consider the Peteme dog training collar.
Featured specs
Comes with two collar straps
Benefits
Digital display screen
Can shut off shock mode
Drawbacks
Good probability of the collar going off if some other dog barks near by.
Extra features
100% Waterproof dog training collar receivers
Rechargeable transmitter and receiver can be charged at the same time
Buying advice
Puppy must be 6 months old at least. Comes with 1 YEAR WARRANTY.
Technical specifications
Type: Electronic dog training collar
Range: Up to 1200 ft
Dimension: 6.1″ x 2.4″ x 1″
Weight: 8 oz
#5 Petrainer Rechargeable Dog Shock Collar with Remote
The Petrainer Training Collar with Remote, with 330 yard range, was designed with the common household dog in mind.
It easily accommodates a stroll to your nearby park, or training in the backyard.
With every function that may be needed for a beginner, including: shock, vibrate and tone, allowing the trainer to receive the best possible results.
Featured specs
Adjustable nylon strap fits neck size from 15 to 22 inches
Benefits
Supports training up to 2 dogs
Drawbacks
Has a rain-resistant receiver – not waterproof
Extra features
Light mode to assist seeing dog in low light conditions
Rechargeable transmitter and receiver can be charged at the same time
Buying advice
One year warranty but if you register the product you can receive an extended 3 year warranty
Technical specifications
Type: Dog Shock Collar
Range: 1000ft Remote Range
Dimension: 7.6″ x 1.8″ x 6″
Weight: 9.6 oz
Dog Training Collars: FAQ
If you are looking for an alternative method to train your dog, or if you want to teach your dog more advanced skills like hunting or off leash walking.
However, it is likely that you have some questions about electronic training collars.
Most new dog owners, only use positive reinforcement techniques for dogs, so training collars are a new adventure and come with some unknowns.
We did our research and found the most commonly asked questions about training collars.
We've answered these questions for you so that you don't have to wander the internet and the library looking for resources.
Are Training Collars Good For Dogs?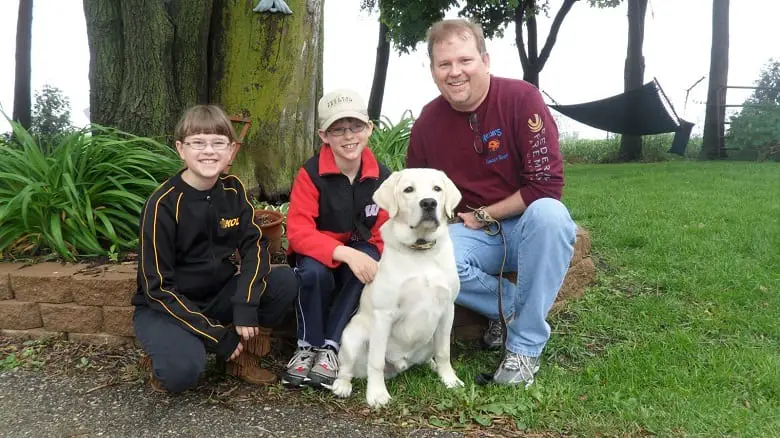 Training collars are a handy tool, and they can bring lots of benefits to your dog training routine. The question of whether they are good or bad for a dog is really dependent on the dog.
For some dogs, training collars are a great tool.
While positive reinforcement works well for many dogs, some dogs respond better to a different stimulus.
For these dogs, training collars are a good alternative to other types of training techniques. Training collars are also good for dogs that are learning particular skills.
It is much easier to teach your dog to walk off leash using a training collar that with some other techniques.
This is also the same theory when you are teaching your dog skills like hunting. In these cases, training collars help the dog and their owner communicate without words, which is a good thing.
On the positive side of training collars, if you have a dog that has run into a dangerous situation, perhaps, a training collar can also give you a quick correction to behavior when safety is on the line. In this case, training collars are a great tool and are very good for your dog.
Training collars are also helpful for training dogs to do skills that may require non-verbal cues. In these cases, training collars are a great option.
Hunting is a good example of an activity that may require the use of non-verbal commands, or commands that need to be given when the dog is out of sight.
In these situations, training collars are a good tool, and provide guidance to your dog, in order to guide them and keep them safe.
Training collars are not the perfect answer for every dog, however.
Some dogs find them scary or uncomfortable, especially training collars that only use static shock as the correction method.
In these cases, training collars are not a good solution, or you may benefit from using a training collar that has a different or a variety of correction methods.
It is important to note that if your dog is not comfortable using a training collar, and they show fear or anxiety when you are using a training collar, you should stop.
Continuing to use a training collar if your dog is fearful or showing anxiety can cause different behavioral issues that you will then need to resolve.
Are Shock Collars Effective for Training Dogs?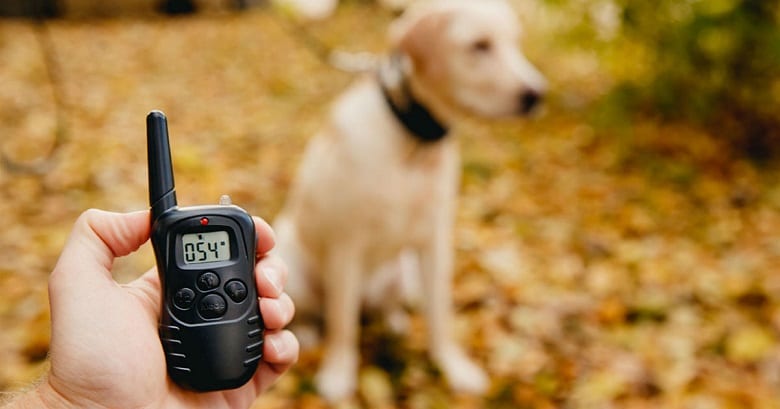 Shock collars can be a very effective tool for training your dog.
There are however some limitations to using shock collars when training your dog, and for a shock collar to be effective, you need to understand these limitations.
First, a shock collar is most effective if you have other training techniques to work with.
Basic positive reinforcement training is a must for any dog owner that intendeds to move from basic training to a training collar.
Basic, positive reinforcement is the easiest way to first show your dog the skill you are looking for.
If you can get your pup to understand the skill, using simple training techniques, you can help guide them into learning the same skill using the training collar.
Helping your dog "know" the skill is the first step to being successful with a shock collar.
Second, starting with a shock collar is a recipe for failure.
This is especially true if you are training a puppy.
Shock collars are most effective for dogs that already have basic obedience under their belts and who know what is expected of them from obedience training and learning with other traditional training styles.
Starting a puppy with a training collar is going to be a frustrating and futile effort for both you and your dog.
If you have the basics down, and you and you dog are ready to jump into a different level of training, a training collar can be a highly efficient tool.
It is important to point out that as with other modes of training, consistency is the key to being successful with a training collar.
While they are great tools, they are only as effective as the effort that the human is willing to put forth.
Be prepared to work hard to get your dog used to it's new training collar.
Do Vibration Collars Work for Dog Training?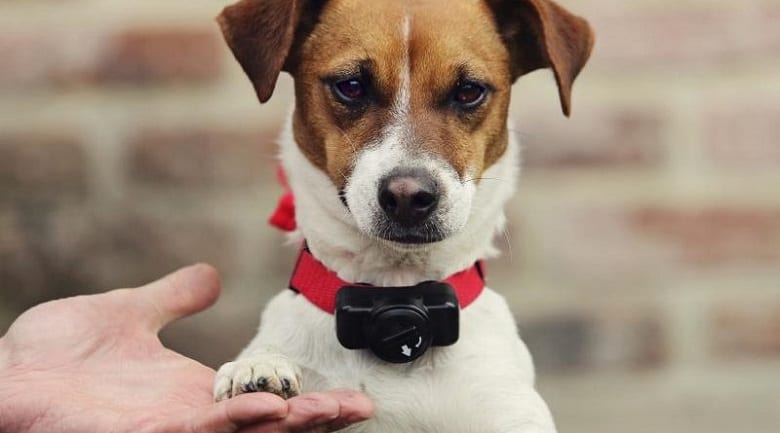 Vibration collars are a great alternative to shock collars, and can be just as effective when it comes to training your pup.
The theory behind vibration collars is the same as with shock collars, however the correction stimulus is different.
Some dog owners do not like the idea of giving their pup a slight static shock as a training correction or marker.
This is fair, and the manufacturers of shock collars heard this concern and have come up with some alternatives to the traditional shock collar.
Vibration collars are just as effective as shock collars, however, instead of using a gentle shock, your dog is corrected or a behavior is marked using a slight vibration.
In the case of correction, this vibration is an annoyance, just like with a shock collar.
Your dog will stop doing a negative behavior to make the annoyance go away.
If you aren't sure which will work best for your dog, it is recommended that you purchase a training collar that will give you both options.
Many of the training collars on the market today come with a variety of correction options. These options range from beeps and high pitched tones to shocks and vibrations.
These versatile collars give you the opportunity to experiment with different modes of correction, and learn which work best for your dog.
Some dog owners even use these multiple modes to reward or mark good behavior, and correct with a different mode.
Do Dog Shock Collars Hurt Humans?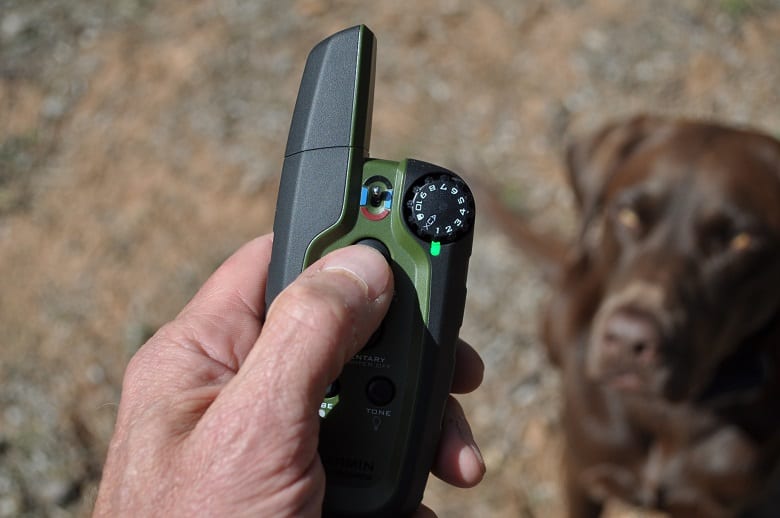 This is an interesting question.
Many dog owners when encountered by a person that thinks shock collars are mean, get the question:
Would you use that on yourself?
What many of these people fail to realize is that the level of shock that a dog receives from a training collar is very minimal.
Training collars, or shock collars are intended to provide a physical stimulus that prompts a change in behavior.
The intention of training collars is never to cause harm to your pup.
Many humans, in an effort to prove that shock collars are safe, and humane, have gone about wearing a shock collar themselves.
While we don't recommend that you do this at home, most of these human "guinea pigs" find that while the shock that they receive is uncomfortable, it is far from painful.
Even at the highest levels of correction, training collars are not intended to hurt dogs or humans.
Think about it this way, shock collars send out a static shock, similar to the shock you might get if you slide around on carpet, and then touch something metal.
Do these shocks hurt?
Maybe a little, but they surprise us more.
Most importantly, they don't cause permanent damage or leave a mark.
For those concerned about their dog, and how they might react to a shock collar, it is important to keep in mind that between the collar and the skin, you have very little protection.
Your pup has a nice layer of fur that will dampen the feeling of the shock.
If you are truly concerned about the safety of you dog, when using a shock collar, or if you are concerned about dealing with judgmental people, consider using a training collar with a different mode of correction.
You might find that a training collar that uses a vibration correction is just as effective, without all the concerns.
Training collars are a great tool for helping you guide your dog to doing great things.
They are a perfect tool for both the owner that just wants to improve their dog's responsiveness to basic training or for the owner that has bigger plans for their pup.
Whether you just want an exceptional dog, or you want your dog to take on a "job", a training collar is a must have tool for every dog owner.
You Might also like